Exclusive
Ex-'TODAY' Boss Being Blamed For NBC's Winter Olympics Poor Ratings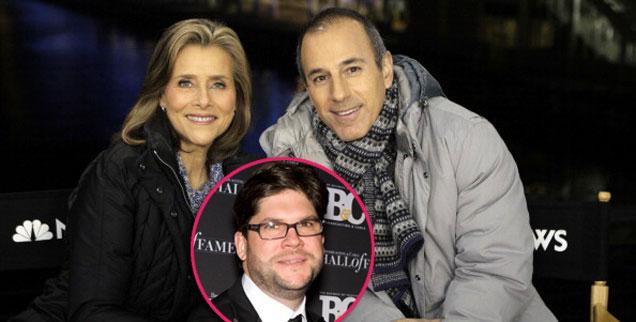 The Winter Games in Sochi were supposed to be ratings gold for NBC, but the numbers are down significantly from the previous games in Vancouver and there has been drama behind the scenes as former TODAY Show executive producer, Jim Bell, who became head honcho for the Peacock network and decided to have Matt Lauer and Meredith Viera fill in for an ailing Bob Costas, instead of utilizing revered sports broadcaster Al Michaels, RadarOnline.com is exclusively reporting.
Article continues below advertisement
It's just the latest criticism aimed at NBC, after American skier Bode Miller was asked about his dead brother in an awkward post-race interview with Christin Cooper, which resulted in the six-time medalist unable to speak and in tears.
After leaving TODAY at the end of 2012, Bell was named executive producer for NBC's Olympic coverage. He told network executives he wanted to transfer to the sports division because he was tired of being blamed for the morning show's demise.
Insiders at NBC tell Radar, "There have been a lot of unhappy campers working for Jim Bell....This is his first time being in charge of such a huge production, and it shows. When Bob Costas was forced off the air because of a nasty pink eye infection, instead of asking sports broadcaster Al Michaels to fill in for Bob, for even just one night, Jim asked Matt and Meredith, who worked for him when he was at TODAY.
Article continues below advertisement
"They both did a good job, but it should have gone to someone in the sports department at NBC. It just made no sense to have Matt do it for more than just one night...why not tap other new young talent at NBC, including former Apolo Ohno, who won eight medals in speed skating? Viewers just love Al and Apolo, it really was a missed opportunity."
"It was historic to have a woman fill in for Bob, but there could have been others besides Matt and Meredith," the source continued.
Article continues below advertisement
"There was no way Jim was going to allow Ann to do any reporting from Sochi for the Winter Olympics," a source previously told Radar.
"He thought she would be huge distraction and a liability to NBC. It's no secret that Jim and Ann do not get along. Ann was disappointed not to go to Sochi because she has been a staple in past Olympic coverage on NBC."
Sources tell Radar, "There is just a very different approach to what goes on the air with Jim as E.P. It was Jim's call to allow that cringe worthy footage of Bode Miller crying to be shown. Remember, there is a 12-hour time difference, more than enough time to make sure what viewers see isn't going to draw such outrage from the public.
"NBC should be sending thank you notes to Bode for being so gracious in regards to comments he has made after the fact. Jim often pits producers against each other, and it's a very macho, boys club atmosphere."
Meanwhile, over at TODAY, "the atmosphere really changed when Jim stepped down from being executive producer of TODAY and it has definitely been positive," a source previously told Radar.