'Did You See The Stars Tonight?' Self-Professed 'Craigslist Killer' Miranda Barbour Details She & Husband's Grisly Pre-Meditated Plan To Murder Man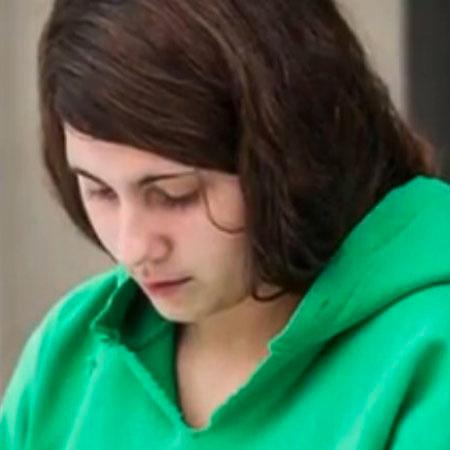 The 19-year-old Pennsylvania woman claiming to have ties to a Satanic cult that influenced her to murder at least 22 people nationwide -- and who's currently charged in the killing of a man she and her husband say they lured in, via a Craigslist ad -- claimed in a jailhouse interview Monday that the latter slaughter was botched via miscommunication.
As we previously reported, Miranda Barbour and newlywed husband Elytte Barbour, 22, have both told officials in Sunbury, Pa. they're responsible for the November killing of Troy LaFerrara, a man they crossed paths with after he responded to a Craigslist ad advertising "companionship."
Article continues below advertisement
On Monday, Barbour, speaking from Northumberland County Prison, told the Sunbury Daily Item said the couple made crucial mistakes in the murder of LaFerrara, a Port Trevorton, Pa. native standing at 6-foot-2, and weighing 278 pounds.
Barbour told the paper Elytte was primed to hide in the backseat of the Honda CRV the killing took place in, and her signal for him to pounce would be to ask LaFerrara, "Did you see the stars tonight?"
Barbour said that she tested LaFerrara when he entered the car, telling him she "just turned 16," and that "when he said he didn't care, I knew" we were going to kill him.
The Face Of Evil: The Top 32 Most Terrifying Serial Killers
LaFerrara began fondling her under her dress, Barbour said, at which point she asked the stars question -- twice -- but got no response from the lying-in-wait Elytte. Finally, she said she gave a signal to Elytte by hitting his leg, "and he began to strangle the man."
Article continues below advertisement
"Things got out of control," Barbour said, noting that her demeanor changed to homicidal, "and I got the knife out." (She joked that her Elytte referred to her bloodthirsty alter ego as "Super Miranda.")
Barbour said that after they fatally stabbed and strangled the man, they abandoned his corpse in an alley, but later returned to the scene of the crime.
"We came back the next day and saw all the police there, and I said to Elytte, 'I guess they found him,'" she said, adding that she was panicking when cops began asking her questions, as she "knew it was all over."
Asked if she regretted any of her actions, Barbour said she didn't, using her love for her 2-year-old daughter as a rationale for the act of violence.
"I knew two people like myself and my husband could not raise a normal child," she said. "I have love for my husband and for my daughter like anyone normal would have, but I know I lost everything, and I want my story out there for me."
Article continues below advertisement
Barbour, according to the paper, claims she can "pinpoint on a map" the location of the slaughters -- spanning from Alaska to Texas to California to North Carolina -- she claims to be responsible for, as local authorities in Sunbury, Pa. are now working in conjunction with the FBI to suss out the validity of the chilling claims.
Sunbury Police Chief Steve Mazzeo told the paper that authorities "are taking her claims very seriously and have made contact with the FBI, and … agreed to work with them.
"I will not discuss any details of any investigations, but we have agreed to liaison with federal investigators on these claims; we have also been in contact with other authorities in other parts of the country," the police chief said.
Prosecutors said they will aim for the death penalty for Elytte and Barbour, who has said she will kill more people if released from custody.
For more on this story, keep it here on Radar.