Inside The Twisted 'TEEN MOM' Life Of The 'Craigslist Killer': 19-Year-Old Satanic Murderer Lost Custody Of 2-Year-Old Daughter During Killing Spree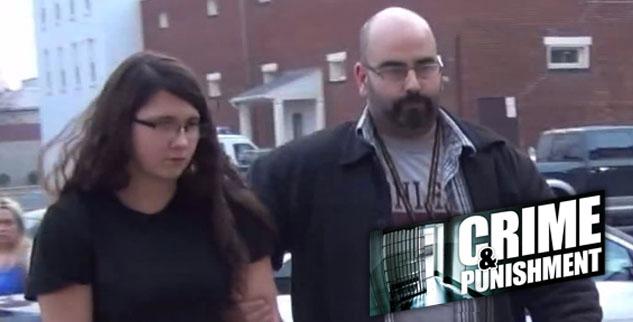 Article continues below advertisement
And according to Barbour's mother, Elizabeth Dean, 41 — who has been denied visitation to her daughter in Northumberland County Prison — the child currently resides with Barbour's father in Texas.
But interestingly, on Jan. 27, Barbour was served with papers from her uncle, Arlin Fletcher, 35, vying for custody of her daughter.
When contacted by Radar, Fletcher had no comment.
"She called and told me about getting served the papers from my brother," Dean told The Daily Item.
Barbour was raised in anything but a typical manner, running away from home when she was 12 and becoming involved in a satanic cult-like relationship with an older man in Alaska.
"She said he branded her by carving a swastika on the back of her neck and his name on her thigh," Dean told the Penn. news agency.
"She told me she was out prostituting at 12-years-old and that this man was her ruler."
Barbour became pregnant at 17-years-old and although her husband, Elytte Barbour told the Daily Item the father of her child was dead, which police are investigating, but her mother says that is not true.
Article continues below advertisement
"He is not dead. But we don't know who the father is," she said. "It could be one of several people."
The Face Of Evil: The Top 32 Most Terrifying Serial Killers
Miranda and Elytte got married on Oct. 22, 2013 and moved from North Carolina to Penn., where the murder of Troy LaFerrara occurred.
Sunbury Police Chief Steve Mazzeo stated that Elytte told detectives he was hiding under a blanket in the backseat of his wife's red Honda CRV when they picked up LaFerrara for his rendezvous with the then-18-year-old married escort.