Exclusive
Revealed: Brooke Mueller Has Been Back Living With Twin Sons For Months - The Temporary Guardian Left, Claims Source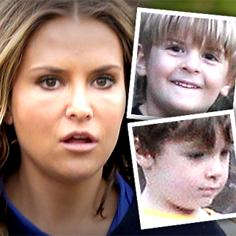 Brooke Mueller has moved back into the mansion twin sons Bob and Max have been living in, and interestingly her brother and temporary guardian of the boys Scott Mueller hasn't been spotted at the Mulholland Estates home recently, a source exclusively tells RadarOnline.com.
"Brooke has been living at the mansion in Mulholland Estates that ex-husband, Charlie Sheen, bought since before Christmas. The boys had been living at the house with their temporary guardian, Scott Mueller, but he hasn't been spotted at the house lately," a source told RadarOnline.com.
Article continues below advertisement
"He's been back at his house in Orange County to be with his family. Brooke does have a nanny and a sober living companion also with her in the house. There just wasn't enough room at the condominium she had been living at for her staff."
Mueller, 36, lost custody of the twins after being placed on a psychiatric hold last year after a drug overdose . Sheen's ex-wife, Denise Richards, became their temporary guardian but was forced to give them after disturbing behavior and violence towards her three children, and family pets.
Article continues below advertisement
"Brooke feels vindicated."
RadarOnline.com broke the story last year: Mueller finally agreed to have the boys tested for fetal alcohol syndrome because she went to rehab TWICE while pregnant and drank large amounts of booze before giving birth to the boys.
As the time drew closer for the testing to take place, Mueller changed her mind.
"Brooke is afraid that if the boys are diagnosed with fetal alcohol syndrome, she will never regain custody of the boys. She knows she is about to get the boys back, but fears she will never get them back if they do have it," an insider previously told RadarOnline.com.
Meanwhile, she remains on track to formally regain custody of the boys, which is expected to happen by May.