Exclusive
Inside The Turmoil On 'Young & The Restless' Set: In-Fighting, Backstabbing & Cast Cliques — Even BEFORE Michael Muhney Firing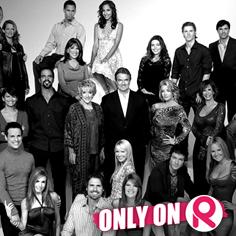 The cast of The Young and the Restless was deeply divided even before Michael Muhney was fired for allegedly groping co-star, Hunter King.
Multiple sources confirm to RadarOnline.com that the drama off-screen prompted popular cast members Michelle Stafford and Billy Miller to quit the number one daytime sudser.
Another reason the cast has been deeply divided is because of "Jill Farren Phelps, executive producer of The Young and the Restless. She was brought on board in July 2012, and many of the actors feel the show began a slow downward spiral.
Article continues below advertisement
"Storylines involving key characters have fallen flat and just floundered. Sharon Case, who portrays Sharon Newman, has been frustrated at the lack of growth for her character. How many breakdowns can she have? It's just boring and tired."
The source also claims storylines involving actress Jess Walton were poorly written.
"Another story arc involving Jill Abbott (Jess Walton) flying all over the world searching for clues in regards to a music box left to her by Katherine Chancellor, the late Jeanne Cooper, makes no sense," the insider told Radar.
"Jess wouldn't appear on camera for a month and all of a sudden, her character is back on screen, complaining about the lack of progress in her search....it's just lazy storytelling."
Farren Phelps is a veteran soap opera veteran, and has served as executive producer for the now defunct, Another World, Santa Barbara,Guiding Light, and One Life To Live. She had served as General Hospital's executive producer from 2001-2012, and during that time, the show won four Daytime Emmy Awards for outstanding drama.
Article continues below advertisement
In 2012, she was fired from the ABC soap because of declining ratings, and the show was on the brink of cancellation.
However, veteran The Young and the Restless actors Doug Davidson and Melody Thomas Scott, defended their executive producer in the days after Muhney was fired.
Muhney, 38, was dumped from the show after King, 20, reportedly complained he'd fondled her breasts on two occasions, both of which she protested were unsolicited and unwanted advances.
Davidson revealed on Twitter on Dec. 18, the day after it was announced Muhney was being let go, "Honestly, JFP is not to blame. She is terrific. Today's events don't reflect her leadership. Trust me there is more to this story."
Following up on Dec. 23, Melody Thomas Scott (Nicky Newman) told her fans on social media, "Not my place 2 reveal but the arrogance of some ppl who have NO knowledge of the situation is astonishing. THE SHOW IS NOT 2 BLAME. ANY actor would have been fired under those circumstances. Terrible loss 2 the show & it sickens me that this has happened. Jill is completely innocent in this. So is the show, SONY, CBS, etc."
Both of those messages on Twitter have since been deleted.
Meanwhile, actors on the show "will remain evenly divided as long as the current culture continues.....Jill wants to focus on storylines involving the older characters, Nicky & Victor Newman, Paul & Cricket Williams, but fans don't want to see that," the source added.
"The show needs new blood and focusing the younger cast....Y & R needs to get back to it's roots, good storytelling with romance triangles."