Exclusive
Revealed: 'Young & The Restless' Veteran Eric Braeden Wanted Michael Muheny Fired Before The Alleged On-Set Grope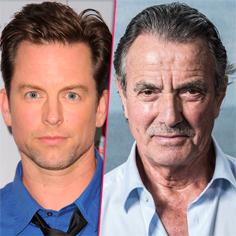 The Young and the Restless' Victor Newman always gets his way, and off-screen, Eric Braeden, who has played the evil mogul, wanted fellow co-star Michael Muhney fired for years RadarOnline.com is exclusively reporting because the two constantly clashed when filming together, and it finally happened after Hunter King accused the father of three of groping her.
Muhney, 38, was dumped after King, 20, reportedly complained he'd fondled her breasts on two occasions, both of which she protested were unsolicited and unwanted advances.
Article continues below advertisement
King, who plays Summer Newman Abbott told producers she would go to cops and file a report against Muhney for allegedly groping her… if he wasn't fired from the top-rated soap.
However, off-screen, Braeden and Muhney "were constantly at each other's throats, and had to be separated several times because it almost got physical. Michael took his role very, very seriously, and always had all of his lines memorized. Eric on the other hand is very, very laid back and refuses to memorize his lines. He would often ad-lib scenes with Michael, which drove him crazy," a show insider told RadarOnline.com.
"Production assistants are constantly placing Eric's lines on props that he can read during filming. There is no other actor on the show that does this....he gets away with it because of who he is. Michael thought it was insulting not to just the scenes they filmed together, but to the entire show. Michael's work ethic is top notch, and yes, he is a perfectionist, it's what made him such a tremendous actor, and fans recognized that."
Article continues below advertisement
As RadarOnline.com previously reported, Muhney was abruptly fired on Dec. 17.
He has not responded to the reports about his alleged behavior, but confirmed via Twitter that he was let go from the show late last year.
"I'm so sorry. It breaks my heart to say this, but I was just let go from Y&R. My last day on set is this Thursday," he wrote in mid-December.
Braeden reportedly did come to blows with co-star Peter Bergman in 1991. During a recent interview with Entertainment Tonight, Bergman said, "Fans ask me most often: Do Eric and I get along in real life? My answer is....next question."
There was "absolutely no question that Eric supported Hunter when she approached honchos at CBS at Sony about Michael's alleged groping. He is extremely powerful on the set, and there are a lot of people that are afraid of him," the source added.
"If you are one of Eric's allies, consider yourself lucky, if you get on his bad side, good luck. During this entire ordeal from when Hunter made the complaint, until it was made public, Eric has offered his counsel and guidance to Hunter, which she is very thankful for."