Exclusive
Soap Scandal: 'Young & The Restless' Star Threatened To Report Alleged Breast Groping To Cops If Co-Star Wasn't Fired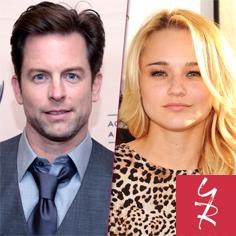 Young & The Restless star Hunter King told producers she would go to cops and file a report against co-star Michael Muhney for allegedly groping her… if he wasn't fired from the top-rated soap, RadarOnline.com has learned.
Muhney, 38, was dumped after King, 20, reportedly complained he'd fondled her breasts on two occasions, both of which she protested were unsolicited and unwanted advances.
A source on set of the CBS soap told Radar: "Hunter went to the top brass at CBS and Sony and accused Michael of grabbing her breasts on two separate occasions. Hunter demanded Michael be fired or else she would file a police report against him.
Article continues below advertisement
"Michael had clashed in the past with writers on the show and one of his co-stars, Eric Braeden. The decision was made to let him go. However, Hunter was told by producers, if she believed a crime had been committed, she should pursue appropriate action, regardless of their decision."
She never filed the report -- at least not yet -- and were told there were no witnesses to the alleged groping.
Married father-of-three Muhney, who played Adam Newman on the show, was abruptly fired on December 17. He has not responded to the reports about his apparent behavior, but confirmed via Twitter that he was let go from the show late last year.
"I'm so sorry. It breaks my heart to say this, but I was just let go from Y&R. My last day on set is this Thursday," he wrote in mid December.
Meanwhile, filming resumes on the soap set Monday, the first time since the Christmas holiday.
Said our production insider: "Things are expected to be very, very tense. The cast is absolutely divided over Michael's firing. Cast members, Sharon Case and Melissa Claire Eagan, are disgusted by the move and are making it known. Both ladies played Michael's character's love interests and they have legions on fans. While they can't publicly discuss the details of the firing, there is no doubt where their allegiances are."
A rep for the show and Muhney didn't immediately respond to request for comment.