Exclusive
Angry After All These Years: Winona Ryder Refuses To Reunite With Ex-Boyfriend Johnny Depp After His 'Inappropriate' Romance With Much Younger Amber Heard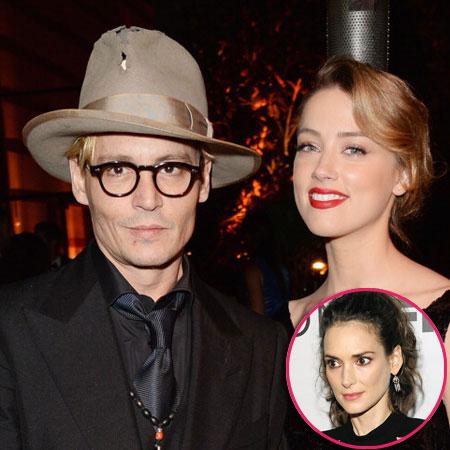 Winona Ryder refuses to reunite on the big screen with her former co-star and boyfriend Johnny Depp, because she thinks his romance with much younger Amber Heard is "inappropriate," RadarOnline.com has been told.
Although Ryder, 42, has in the past expressed the desire to reunite with Depp and his favorite director Tim Burton, who all worked together on the 1990 movie Edward Scissorhands, an insider said 50-year-old Johnny's relationship with Heard, 27, has her seeing red.
Article continues below advertisement
Ryder, who was Depp's girlfriend from 1989-1993, "had a respectful relationship with Johnny for years afterward, but she soured on any idea of an acting reunion after Johnny hooked up with Amber."
According to the source, Ryder was not happy that Depp allegedly left his baby mama, Vanessa Paradis, 41, for his young Rum Diary co-star.
"The way he conducted that affair really upset Winona and turned her off to Johnny," the insider said.
"The thing she especially can't stand is how all of Johnny's middle-aged friends, even Tim Burton, are cheering this relationship on like it's appropriate, when Winona is telling her own friends that it's absolutely not.
"She's pulled a 180 on her opinion of Johnny and his cronies because she thinks it's a sad cliché that he'd dump his long-term baby mama for a woman in her twenties."
Depp and Heard made their first official public appearance as a couple at the Jan. 11 Art of Elysium's 7th Annual Heaven Gala.
Meanwhile, the source revealed, "Winona generally has become much more conservative as she hits her forties, but still is making no indication of settling down.
"She loves living alone. That's her big thing and the reason most of her relationships fall apart after the first year."