Exclusive
Tori Spelling Marriage Drama: Husband Dean McDermott Bemoans She's A 'Hypochondriac'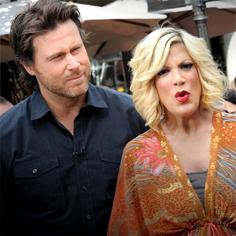 He might be the one accused of cheating, placing undue strain on their seven-year-marriage, but Dean McDermott has his own issues to deal with at home: his "hypochondriac" wife Tori Spelling!
A source close to McDermott, 47, told RadarOnline.com how the Canadian-born actor often bemoans to pals how his wife has become a poster child for health phobias and stress.
Joked one insider: "Over the years, Tori has diagnosed herself with terminal cancer, brain tumors, incontinence... the list just goes on and on."
Article continues below advertisement
But in all seriousness, the source added, the 40-year-old mother-of-four's excessive worry about having a serious illness that does not exist has caused drama inside the couple's once solid union.
"If Tori get a headache, she immediately thinks she is having an aneurysm," said the source.
"This happened years before her pregnancy with Finn, in which she was hospitalized and placed on bed rest. There have been countless trips to various emergency rooms because Tori would think she needed immediate medical attention.
"Several times, Tori was told by doctors that she was only having panic attacks. It has taken a huge strain on the marriage because Tori lives her life in such fear."
The ex-90210 star has had her fair share of illnesses, as we've previously documented: In October 2012, she was rushed to a Los Angeles hospital, where she learned she had a condition called placenta previa, in which the placenta covers the opening of the cervix.
Article continues below advertisement
"It was surreal," Spelling said at the time. "I just remember thinking, 'I can't leave three children behind.'"
Spelling was also hospitalized last October in the midst of her tour to promote her tell-all book Spelling It Like It Is, because "she just wasn't feeling well," according to a source.
"Tori was hospitalized for stress and nerves for a few days because she was receiving a lot of negative feedback about revelations she made in the book and she had no anticipation that it was going to hit a nerve," an insider dished.
"Tori didn't think making comments about a chance encounter with Katie Holmes would cause such a ruckus.
"She just grew very anxious about having to defend her actions in the book in media interviews and decided that she needed to go to the hospital."
As RadarOnline.com was first to reveal, in Spelling It Like It Is, Spelling revealed in her memoir that Tom Cruise was a "robot" during an encounter between the pair.
It's the latest drama to rock the Spelling-McDermott marriage after a woman named Emily Goodhand claimed she had had sex with the 47-year-old on Dec. 6, last year, while he was working in Toronto.
Together with that stress, one friend said they feared "it could push her over the edge.. Tori needs help to deal with her hypochondria."