Exclusive
Bitter Arguments, 'Fisticuffs' & The TRUTH About Fired Star Michael Muhney: 'Young & The Restless' Veteran Breaks Silence About On-Set Turmoil In Explosive Tell-All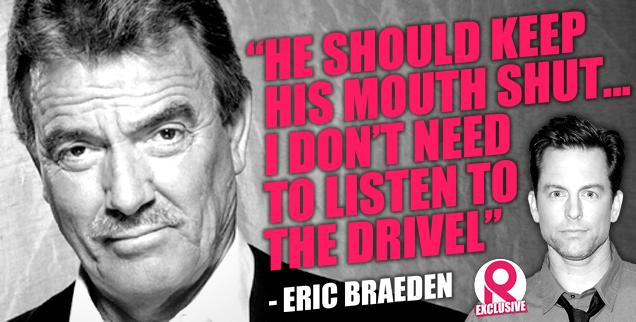 The cameras have turned.
The cast and crew of hit soap The Young & The Restless are in turmoil, in the wake of star Michael Muhney being fired for allegedly groping the breasts of his costar Hunter King multiple times.
In the aftermath of Muhney's demise, tales of bitter in-fighting, backstabbing and cast cliques have emerged, painting a sordid portrait of what's REALLY going on behind-the-scenes of the highest-rated daytime drama on American television.
Article continues below advertisement
Now, in an unprecedented move, veteran actor Eric Braeden -- best known for his role as Victor Newman on the soap since 1980 -- has come forward exclusively to RadarOnline.com in a bid to set the record straight about rumors that he played a role in the termination of Muhney, 38.
Speaking to RadarOnline.com's Jen Heger, a forthright Braeden claimed Muhney, who played his on-screen son Adam Newman, had openly waged a "campaign" to get him kicked off the show which, he stunningly confessed, led to an epic "shouting match" between the pair.
"I was prompted to get into 'fisticuffs' with him because he wanted me off the show, if you want to know the truth," the Emmy Award-winner admitted.
But, said Braeden, "The notion that Hunter King came to me and was coaxed by me to go to the top (and get Muhney fired) is utter nonsense."
Here is our full interview:
---
RadarOnline.com: Sources have told RadarOnline.com that your relationship with Michael Muhney was contentious at times. Why was it?
Article continues below advertisement
Eric Braeden: I welcomed Michael Muhney when he came here. He is a great actor. We did have our differences, but for anyone to say that I had him fired is a lie. I have always thought he was a very good actor and told him so. Towards the end, Muhney and I did have our differences and had a shouting match, no question.
During that shouting match, all kinds of things were said. I won't go into detail about it. I don't remember the specifics of who said what but what I do recall is that I was prompted to get into 'fisticuffs' with him because he wanted me off the show, if you want to know the truth. That is about as far as I will go. That is it. It was a campaign to get me off the show. It was Muhney who wanted to get me off the show and he expressed that to various people.
RadarOnline.com: Why did he want you off the show?
EB: He wanted me off the show because he wanted to be head honcho. In his words, I was the old lion and he was the young lion. He wanted to push aside the old lion. That was in his words to me, at the very end. I welcomed that guy, as I said. (I told him), 'You are very good at what you do, keep your nose clean and stay out of everyone else's business and just do your job.'
Article continues below advertisement
RadarOnline.com: Was Michael Muhney his own worst enemy?
EB: Yes, of course. He has no one else to blame but himself and he said as much when he left… to several people and I respect that he did that. He apologized for his ambition and his desire to become the guy, the young lion, pushing away the old lion. The last day he was here, he apologized to me, you bet. He was contrite and apologized for several things that he had said and done. I said it's okay. The essence of what we learn as Christians is to forgive and one forgives. I have forgiven him, I always told him that openly.
Several days after Muhney was fired, he gave an interview to the Huffington Post and was asked if he thought Braeden was involved in his firing. The married father of three children, said, "I do know one thing for sure: I really look up to and respect my friend, Emmy-winning "General Hospital" star Maura West. She had the most dignified walk down The Green Mile that I've ever seen when she was fired from "Y&R," too. In her final days, when her character was dead woman walking, she held her head up high and was classy and professional right until the end. I plan on doing the same thing with everyone I've worked with on the show. I'll apologize for when my character bled into my real life at times and if I was intense a few times. But I'll let everyone know how blessed and honoured I was that I got to work with them all. I got to be an actor in a land where you can play dress-up and pretend with a collective group of other talented actors. I'm going to take Maura's lead. If there were disagreements in the past with Eric, for me, it has to be history."
Article continues below advertisement
RadarOnline.com: What did you think about Michael's comments to the Huffington Post?
EB: He is a very good actor and should keep his mouth shut. I don't need to listen to the drivel that comes out of that person's mouth.
RadarOnline.com: There were rumors circulating that your script was taped down for you to read from during scenes. How do you respond to that?
EB: Where do you think Sony would get the money to pay production assistants to do such a laborious task? I do between 10-60 pages of dialogue.= I am known to be one of the fastest workers here. You can ask crew people, who will tell you that. When you have been in the position I have been in for so long, people will obviously will take pot shots.
But yes, I do ad-lib. It's never out of context and I do it because I know the history of my character, more than anyone else. I feel as an actor, we need to change this or that. It's the joy of acting, to discover something in a scene and do it. Some actors are by the book, but we all feel it out in the process of doing the scene. In daytime television, we don't have the time to rehearse and as a creative actor, you suddenly feel the rush of the moment. When I do it, it's always within framework of the character. It's the joy of the profession.
Article continues below advertisement
RadarOnline.com: How is Hunter King doing?
EB: I hardly know the girl. I just don't know people's names until they have been here for 10 years. She is a sweet girl and a damm good actress. The notion that Hunter King came to me and was coaxed by me to go to the top is utter nonsense. The rumor mill is being fed with misinformation, by whoever.
RadarOnline.com: Young & The Restless executive producer Jill Farren Phelps has been getting a lot of criticism from fans of the show since Muhney's firing. Is that fair? What do you think of the job she is doing?
EB: I like Jill Phelps. I have nothing against her. I don't know what the cast thinks and frankly I don't give a damn. I make up my own mind. She has been very cordial to me and very nice to me. She has been very supportive to me. For anyone to go after her is wrong. It's categorically wrong and mean spirited. That woman has been nothing but in support of the show, as far as I can tell.
RadarOnline.com: Young & The Restless has been the number one daytime soap opera for twenty-five years, which is an amazing accomplishment. How did the show do it?
EB: I have tremendous respect for our writers, who have the hardest job in the business. They don't get enough respect, they are damn good at what they do. I think the audience is drawn to the core characters of the show. It's a privilege to be a part of the show.