Exclusive
'That '70s Show' Reunion? Ashton Kutcher Plots To Pair Girlfriend Mila Kunis & Jessica Simpson In Big-Screen Comedy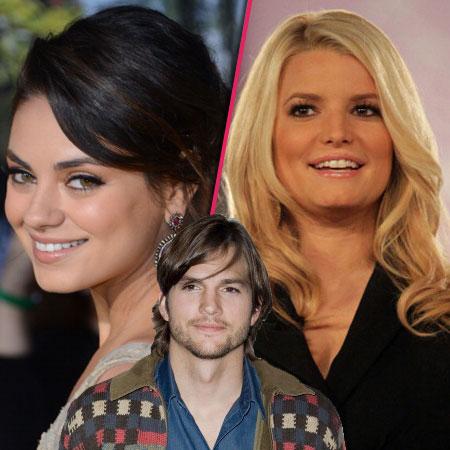 Ashton Kutcher wants to pair his girlfriend Mila Kunis with Jessica Simpson in a big-screen comedy featuring the That '70s Show beauties who both romanced him on the show, RadarOnline.com has learned.
"Ashton has an excellent professional relationship with Jessica and is eager to revive her on-air career--by pairing her with Mila in a movie comedy," a source dished.
As That '70s Show fans know, Kunis played Kutcher's character Kelso's girlfriend on the 1998-2006 sitcom--and Simpson portrayed his love interest in a brief recurring role.
Article continues below advertisement
Since then, Kutcher married--and then divorced--Demi Moore and hooked up romantically with his former co-star Kunis in real life.
Simpson, meanwhile, has had two children with boyfriend Eric Johnson and has devoted herself to family and her fashion line.
As RadarOnline.com recently reported, Simpson, 33, is no longer interested in acting.
But Ashton has other ideas!
"Ashton loves Jessica's whole vibe and wishes he could personally take control of her career, but for now he's on the hunt for scripts and writers that could position Mila and Jessica as a comedy duo," the source said.
According to the insider, no one should hold their breath, however.
"The thing with Ashton – and everyone knows this – he often talks a bigger game than he can actually deliver," the source said.
"Jessica has ZERO intention of ever acting again but Ashton's convinced he'll get her to sign on if he finds the right project."