Exclusive
Teresa Giudice In Denial About Husband's Repeated Rendezvous With Other Women: 'She Believes Every Word He Says'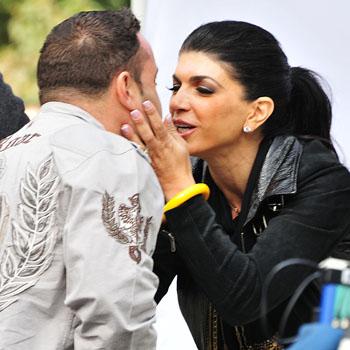 Teresa Giudice is in "complete denial" about her husband Joe spending time with other women behind her back, RadarOnline.com has been told.
"She's not doing a thing about it," a source told RadarOnline.com. "She didn't say one word to him. This is how I heard her talk to Joe (afterwards), 'Hey Joe.' It's just like that. Nothing."
The Real Housewives of New Jersey star believes it when her husband tells her that these meetings are just for business.
Article continues below advertisement
"He has her snowed that this girl has something to do with business," the source said. "But it didn't look like business to me. He was all smiley, giggly."
GALLERY: The Giudice's 30 Most Shocking Quotes About Fraud & Finances
"I think she believes every word he says," the source added. "I think that's why she got herself in this kind of trouble, even with the feds, everything."
RadarOnline.com has exposed at least three secret cozy dates that Joe has had, behind the back of his wife.
The most recent was on Dec. 27 when he was photographed having dinner with a mystery woman. It followed at least two other incidents — this and this.
Privately, Teresa has said that if she caught Joe cheating, she would be done.
But, said the source, "She's in complete denial because she has said many times to me, 'If he ever cheated on me… are you kidding me? I'd kick him right out… I don't believe it."
Article continues below advertisement
So how does Joe get away with it?
"He just lies and says, 'What are you, crazy? I would never do that because I'm in the public eye,'" the pal added. "Meanwhile he was caught texting and driving in a school zone, got arrested again. He doesn't give a damn about nothing!"
Sadly, Teresa will probably never leave Joe, predicted the friend.
"She is old school," the source said.
"I think that she doesn't want to mess with her family. She likes her life the way it is. She doesn't want change and she wants to believe it."
Plus, "she's used to his lies," the source said. "She's used to his bulls***."