Exclusive
Suspended NFL Player Richie Incognito Claims Jonathan Martin Was Afraid His Position Was 'At Risk' Before He Made Bullying Allegations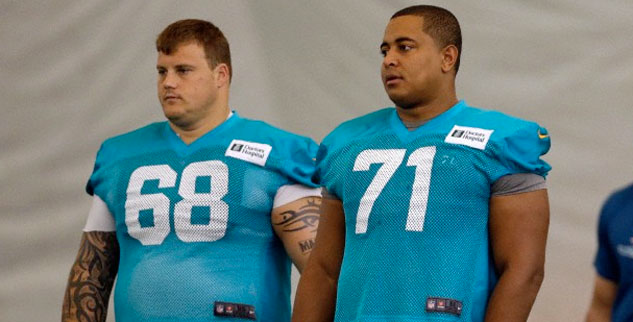 Embattled Miami Dolphins offensive lineman Richie Incognito — indefinitely suspended by his team for allegedly bullying teammate Jonathan Martin — has suggested the Stanford graduate had privately expressed concerns he was going to be cut from the team before he made the sensational allegations.
It emerged on Thursday the 30-year-old has turned over information to the National Football League that his legal team believes shows Martin to be a troubled player both on and off the field.
Article continues below advertisement
He also hired high-profile public relations firm Sitrick & Co. to mount a public defense and rebut allegations swirling around the case.
Incognito's lawyer, Mark Shamel, told RadarOnline.com that Martin "raised concerns with Richie Incognito that he was not playing well, about how upset he was at being ranked by Pro Football Focus, as among the worst lineman in the NFL, about his poor performance on the field, his demotion to right tackle and how he was concerned about what the outcome might be for his missing team meetings and, about how he felt his job was at risk.
"It was only after sharing these concerns and Martin's abandonment of the team, that the bullying allegations were raised.
"Rather than deal with his poor on field performance and myriad other issues, Martin is now hiding behind false allegations. The result undermines the real problems of bullying and demeans what is a very real problem for many young people."
A source close to situation added: "Jonathan had a history of missing mandatory practices and team meetings and it escalated when he lost his starting job. Richie was extremely supportive of Jonathan and the two had developed a very close friendship. There are hundreds of text messages between the two which reveal two football players exchanging in banter and making plans to hang out off the field."
Article continues below advertisement
As RadarOnline.com previously reported, the NFL hired attorney Theodore Wells to conduct the investigation. He has spoken with both players, as well as their coaches and teammates. Findings from the investigation are expected to be made public after the Super Bowl.
Text messages previously made public by Martin's camp revealed that Incognito had threatened to kill him and had used the N word. However, those messages were taken out of context, according to Incognito.
He also apologized for his behavior, RadarOnline.com has been told.
However, according to Shamel, Martin also sent inflammatory text messages to Incognito.
"The coarse and unacceptable comments and text messages that were sent to Jonathan Martin were of the same poor taste as those sent by him," the lawyer, from the firm Womble, Carlyle, Sandridge & Rice, said.
"All of these communications were provided to Ted Wells and the NFL investigation. What they show is banter between friends, not bullying. Jonathan Martin sent text messages to Richie Incognito which included threats to send someone over to Richie Incognito's home with a 'tranquilizer gun and sandpaper condoms' to homosexually rape him. Jonathan Martin sent another that said he would 'kill (Richies's) whole family.' There was another where Jonathan Martin indicated he would ejaculate in Richie's face.
Article continues below advertisement
"Richie Incognito has owned his inappropriate comments, despite the fact that they were made in jest and it is time for Jonathan Martin to do the same.
"With respect to Martin's claim that had no 'tools' to deal with the non-existent bullying, the truth is just the opposite. Jonathan Martin is a professional athlete with millions of dollars, an agent, a lawyer, a union representative, a player personnel advocate, a mother who specializes in labor law, and his teammates and friends. Jonathan Martin had more support and love around him than almost any other person in the world. He never once indicated he was uncomfortable with the interactions between teammates and friends.
"Rather, Jonathan Martin was a full participant, who at times led some of the exact same pranks and gags and text and email exchanges he now claims, 'crossed the line.'"
Martin has two years left on his contract with the Dolphins; Incognito is now a free-agent.
Request for comment from Martin wasn't immediately returned.