Richie Incognito Claims He Always Had 'Jonathan Martin's Back,' Racist Comments Were Just Part Of 'Locker Room Culture'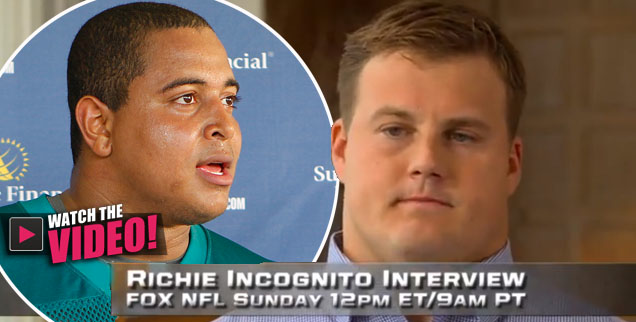 Richie Incognito is finally opening up about the scandal that's engulfed him and his Miami Dolphins, and he's saying it is all much ado about nothing. His racist comments directed at Jonathan Martin are just part of "locker room culture," says Incognito.
Suspended indefinitely while his team investigates Incognito's behavior towards teammate Jonathan Martin, the 320 lb. guard sat down with Jay Glazer of Fox Sports to try to explain the vicious voicemails and texts he left for the rookie.
Article continues below advertisement
"This is not an issue about bullying. This is an issue about my and John's relationship. I had Jonathan Martin's back the absolute most," he insisted in his interviewing airing on Fox NFL Sunday.
He also claimed that Martin once texted HIM that he was going to kill "my entire family." It was just the way they communicated, Incognito said.
Martin obviously feels differently and is currently on his team's sick roster.
"The racism, the bad words -- that's what I regret most -- but that's a product of the environment. That's what we use most."
That comment about racism being part of the NFL environment is already lighting up the Twitter world.
What do you think? Are you buying Incognito's explanation? Tell us in comments.