Scared Of A Little Black Magic? Joyce Giraud Hires Rabbi To Cleanse Home From Carlton Gebbia's Negativity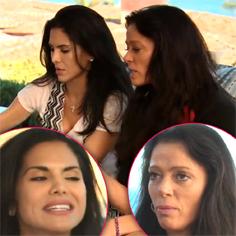 Although Carlton Gebbia toyed with Joyce Giraud on Real Housewives Of Beverly Hills – claiming she'd cast a spell on her -- the former Miss Puerto Rico revealed her husband fell ill later that night.
Opening up about the alleged hex, Joyce detailed the odd chain of events that occurred after confronting Carlton about her religious beliefs.
"That night we went to dinner, and I told him what Carlton said to me. He told me that even though I didn't believe in any of it he hated the fact that she was threatening to put a spell on me. Then he got really sick," Joyce revealed in her Bravo blog.
Article continues below advertisement
"I don't believe in any of Carlton's negativity, it doesn't affect me… Personally I think maybe he was going to get sick anyhow and the power of suggestion is such a strong thing that he allowed his thoughts to believe it was the hex," she added.
Joyce continued to rant about her co-star, adding: "I still haven't met anyone as judgmental as Carlton. I think she literally uses her Wicca for shock value."
"I believe in life we create our own happiness; and the only bad energies that enter your world are the things you allow to come in," she said.
Although the beauty queen claimed she "wasn't scared" of Carlton's black magic, she confessed to having a spiritual cleansing of her home – the following day!
"We have a wonderful friend who is a Rabbi. I just love him and his wife. The next day they came right away and blessed our home against any negativity," she revealed.