Exclusive
Tyga In Stripes? Rapper Facing Jail Time Over Accusations He Stole Artwork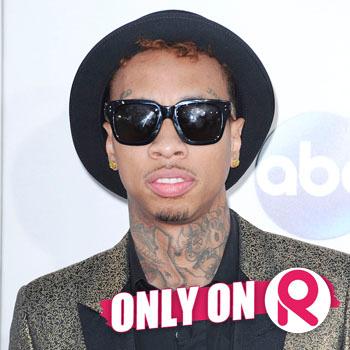 Tyga — also known as Blac Chyna's baby daddy — has been served with a copyright infringement lawsuit which claims the rapper used his artwork without his permission.
Filed on Dec. 18, 2013 in California by Glennon Marrero, the man claims that he provided Tyga — real name Michael Ray Nguyen-Stevenson — with graphic designs of a pharaoh, which Tyga then used on his clothing line but never paid Marrero for.
Article continues below advertisement
Marrero claims in the court documents obtained exclusively by RadarOnline.com that he has owned copyright on several of the pharaoh images Tyga used since 2010.
According to the paperwork, Marrero approached Tyga, 24, in 2012 for payment but the rapper refused to negotiate with him — or pay him anything at all.
"Stevenson refused to negotiate any agreement with Marrero," the docs read.
"Terrell Meeks, Stevenson's Tour Manager in March 2012, told Marrero that he would need to sue Stevenson if Marrero wanted compensation for the sale of clothing incorporating Marrero's designs."
Marrero is asking for an account of "all gains, profits, and advantages derived from their acts of infringement, including the provision of an accounting of revenue or other consideration generated from the sale, distribution, reproduction, public display, marketing, license, lease, transfer, of the Works.
Tyga has yet to respond to the lawsuit.