Exclusive
Porsha Stewart Thinks Cynthia Bailey & Hubby Need Counseling: 'She Would Never Let A Man Have A Bachelor Pad'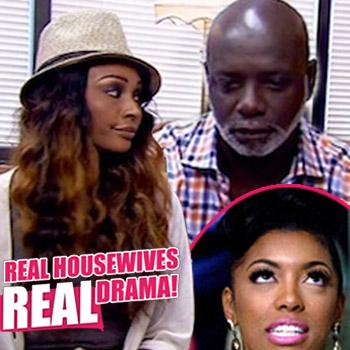 Porsha Stewart takes her couples counseling seriously!
The Real Housewives of Atlanta star has a lot of advice for castmate Cynthia Bailey and her husband Peter Thomas, but ultimately tells RadarOnline.com in an exclusive interview that the two should go to couples counseling.
"It's a communication breakdown. I just hope that they go to counseling or go to a paster and let him get between them. Communication is so important and it's…if you're arguing, it's heightened when someone else comes around," Stewart told Radar.
Article continues below advertisement
"Deal with your issues. So they just need to take time for them to get back to the basics to why they're together."
And an issue between Bailey and Thomas seems to be in the sack, when she recently revealed the was too worried about providing the income to have sex with him.
"That's unfortunate that she feels that way," Stewart said.
"In a marriage, he's supposed to have you balance you out. And so that's just unfortunate."
Additionally, Stewart is saying a big NO to the man cave Thomas mentioned he wanted on a previous episode of the hit Bravo show.
"Ah yeah, no. No, no, no. I completely disagree with that. I'm not even the type of girl, if we have an argument, you don't need to leave afterwards. That's not cool afterwards, so you're definitely not going to have what, a bachelor's pad, man cave whatever," she vented.
"I disagree with that if it was my relationship."
--- Interview by Lindsay DiMattina
Do you think Stewart is on the right track — should Bailey and Thomas seek counseling? Sound off in the comments below…