No Laughing Matter: Nick Cannon & Chelsea Handler In ANOTHER Twitter War As He Sniffs, 'No One' Watches Her Show!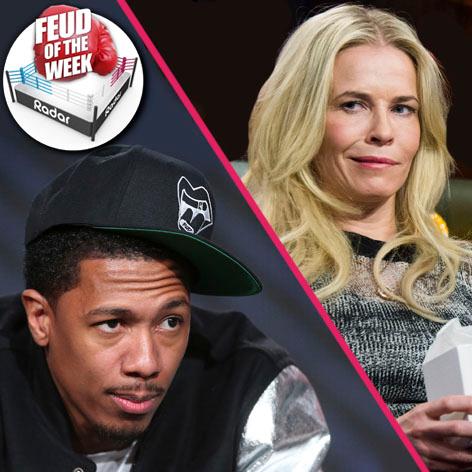 Apparently Nick Cannon can't take a joke. Mr. Mariah Carey launched an all-out Twitter war against talk show host Chelsea Handler after she made a jibe about him and his wife on her show, Chelsea Lately.
Earlier this week, Handler slammed Cannon and Carey's romantic photo shoot in Ebony magazine, saying, "No, I don't know about this kind of black love. He's acting like a white boy. He talks about how … he knew that Mariah and him were going to be together, when, he said, 'I found out that she was spiritual and that really…" before dissolving into giggles.
Article continues below advertisement
"I don't want to start another feud with Nick Cannon!" Handler continued. "Because I had a feud with him last year that he started and I didn't really know we were in and that really knocked the bottom out of me."
But still, she continued to slam his wife, saying, "How do you claim to be a spiritual person if you've been photographed on a treadmill in high heels?"
Cannon was quick to fire back on Twitter.
"Sounds like @chelseahandler wants 2 WildOut!" he wrote Tuesday. "It's easy to throw rocks … from behind a wall. Come out of hiding!"
He admitted, however, "I didn't hear what @chelseahandler said about me because I don't watch her show. (NO ONE DOES) What channel is it on, public access?"
Adding fuel to the fire, he insisted, "I would be glad to have @chelseahandler on any of my shows. I have several … On many different networks."
Article continues below advertisement
"She's been hating for years," Cannon pointed out.
Indeed, his beef with the shock comedienne goes back to 2010, when she tweeted, "I just heard Nick Cannon is starting a comedy tour. Who's going to do the comedy?"
He responded in a flurry of angry tweets, writing "Wow @chelseahandler I actually used to have respect for you as a comic. … #Tasteless"
"Everyone knows @chelseahandler had sex with the head of E! for her show," he claimed. "So when it gets cancelled, does he get residual p**** for the reruns? @chelseahandler looks like she got hit in the face with a bag of nickels."
Are you Team Nick or Team Chelsea? Let us know in the comments!