Talk About Scary! Mel B's 6-Year-Old Daughter Rushed To The ER With Blood Gushing: 'Could Be A Heart Murmur Or Vessel Infection'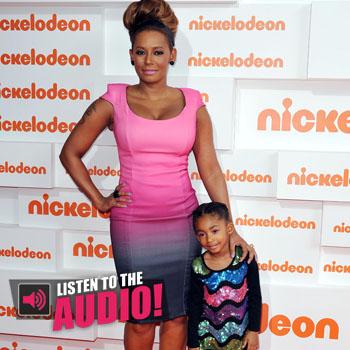 Scary Spice got quite the scare herself on Wednesday morning when she had to rush her 6-year-old daughter to the emergency room after the little girl was disoriented and gushing blood from her nose — and RadarOnline.com has all the details.
The former Spice Girl, Mel B, opened up about the alarming incident with her daughter this morning while co-hosting on Australia's 2DayFM, revealing Angel could have a heart murmur or serious infection.
Article continues below advertisement
"This morning's been a little bit crazy because my 6-year-old, Angel, was feeling not very well yesterday, dizzy and had her first ever nose bleed so I kept her off school. And then this morning, completely disoriented and blood was just funneling like there was no tomorrow, so I took her to the emergency room," she said.
"She had blood tears and she's got like a heart murmur thing on, poor little thing. They don't know what's wrong. They've done a bunch of blood tests so we're just waiting for that stuff to come back.
"They're thinking it's either like some kind of a heart murmur or vessel infection or sinus infection. A lot is going on!"
Hear Mel B's entire interview here:
https://media.radaronline.com/brand-img/wp-content/0x0/2014/01/mel_b_on_angels_sickness_2day_fm_dab_2014-01-16_08-56-48.mp3
Angel is Mel B's daughter with comedian Eddie Murphy, and she has two other girls — Phoenix, 14, with ex Jimmy Gulzar and Madison, 2, with husband Stephen Belafonte.