Funding Corruption? Madonna Donates $1 Million To Scandal-Plagued Charity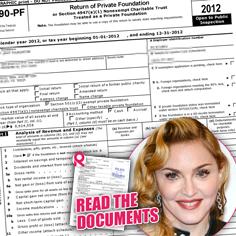 "I want credibility as a philanthropic organization!" Madonna told the crowd at an A-list fundraiser for her charity Raising Malawi in 2008. And though the African aid organization she founded has been hit with allegations of fraud, misplaced funds, and worse, RadarOnline.com has learned that she is still as committed to the cause as ever: According to tax documents obtained by Radar, she donated a cool $1 million to Raising Malawi in 2012.
Article continues below advertisement
READ: The Tax Documents Showing Madonna's Donations
Roger Friedman of Showbiz411.com first reported the surprising news, noting that Raising Malawi was the subject of "several investigations … for financial improprieties" in 2011.
Although she had promised to build a $15 million school for girls in the country, she later scrapped that plan, angering locals. Nearly $4 million in funds was reportedly discovered missing from the charity's coffers. The executive director of the charity from 2005 to 2010, Philippe van den Bossche, left the charity amid accusations he allowed the organization to use school funds for personal expenses, such as free housing, a car and driver, and a golf club membership. (His position has always been that he was never accused of such conduct.)
Madonna insisted at the time that she would not give up her dream, saying in a statement on her website, "My original vision is now on a much bigger scale. I want to reach thousands, not hundreds of girls. I want to do more and I want to do it better." And apparently, she's putting her money where her mouth is.
As Friedman points out, Raising Malawi did actually help construct classrooms in the African country in 2012 with the help of local aid organization, buildOn.
According to the same tax documents obtained by Radar, Madonna also donated $5,000 to Jewish Big Brothers Big Sisters of Los Angeles; $5,000 to Ionia, Inc., an Arkansas recovery center and macrobiotic community; and $15,000 to the cancer research organization the TJ Martell Foundation.
She did not donate anything to the similarly scandal-plagued Kabbalah Centre of L.A., which had been the subject of an IRS investigation in 2011. She did, however, donate to it in the previous year, per tax documents.