Madonna Abandons Malawi School Project, Critics Tell Her To Return Adopted Kids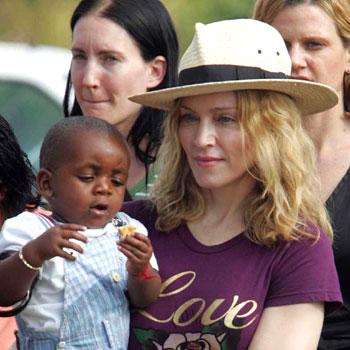 Malawian education expert and academic Dr. Steve Sharra wants superstar Madonna to return her two adopted children David and Mercy if she doesn't build her promised school for needy African kids, RadarOnline.com can reveal.
Dr Sharra is furious that Madonna and her Raising Malawi charity has scrapped her plans for a $15 million school for about 400 impoverished girls due to mismanagement.
And he used his Twitter account to attack the famous performer by writing: "Madge, if you don't change your mind about the school, I might consider asking for David and Mercy's return."
Article continues below advertisement
The Malawian government is also furious at the change of plans by Raising Malawi and the famous performer who controversially adopted her son David Banda in 2006 followed by her daughter Hope in 2009.
Education Minister Peter Mutharika said: "We'd like to know why she has changed,"
"Yes, we do appreciate that it is her project; she devised it and she knows best how to implement it. But still, as government, we'd be interested to know why there is this change."
Mutharika – who is tipped to be the next president when his brother, Bingu wa Mutharika, ends his final term in 2014, added: "I honestly don't know the number of schools she is going to construct, where she will build and for how long. So until we talk to her, we can't comment much."
Raising Malawi has ousted its board of directors and replaced its members with a new set of officials that includes Madonna and her manager, according to the New York Times newspaper.
Article continues below advertisement
LONG LOST PHOTOS: Madonna - Before She Was Famous
Rabbi Michael Berg – the co-founder of Raising Malawai - sent an e-mail to the charity's members stating: "A thoughtful decision has been made to discontinue plans for the Raising Malawi Academy for Girls, as it was originally conceived."
The charity had drawn financial support from Hollywood and society circles, as well as the Los Angeles-based Kabbalah Centre International, which Berg heads.
The Malawi school had collapsed after spending $3.8 million on the project and its executive director, the boyfriend of Madonna's former trainer Tracy Anderson, left in October amid criticism of his management style and cost overruns.
Madonna issued a statement on Thursday saying she was still intent on using the organization, which has raised $18 million so far, to advance improvements in the beleaguered nation.
Article continues below advertisement
"There's a real education crisis in Malawi," she said.
"Sixty-seven percent of girls don't go to secondary school, and this is simply unacceptable. Our team is going to work hard to address this in every way we can."
Malawi is one of the world's poorest nations, with more than half of the population of 12 million living on less than one dollar a day.
Some 200 people were removed from Chinkhota village, on the outskirts of the capital, Lilongwe, in preparation for the Raising Malawi Girls Academy.