Exclusive
He Shoots, She Scores: Couple BUSTED Having Sex In Staples Center VIP Bathroom At Lakers' Game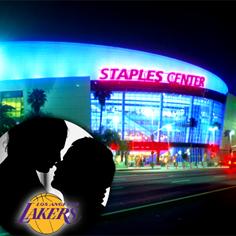 The Los Angeles Lakers couldn't score enough points to defeat the Denver Nuggets on the court Sunday night, but one couple SCORED off the court, RadarOnline.com has learned.
The frisky pair caused a major incident for security at the Staples Center in downtown Los Angeles when they were caught mid-consummation in the VIP bathroom on the suite level of the stadium.
An eyewitness overheard suspicious moaning and groaning from inside the ladies' bathroom and reported the tryst to security and police, who responded and sprung the pair in the midst of their lurid act.
Article continues below advertisement
"A man and a woman were having REALLY loud sex in one of the stalls of the ladies room," an eyewitness revealed to Radar.
"Everyone in the bathroom could hear them. It was like they did not care!"
Said the onlooker, "One lady in the bathroom was so mad that she stormed out and demanded security come in. The man and woman were busted, as security knocked on the stall door and ordered them to get out."
While an injured Kobe Bryant sat courtside in a dark suit, oblivious to the risqué incident going on in the bleachers above him, the impatient couple eventually came out of the stall.
They were ultimately escorted out of the VIP area, according to our spywitness.
Said the source: "Staples Center security and a uniform police officer had them surrounded and were talking to them outside the bathroom. The couple didn't even look embarrassed."
Shamelessly, our source said, the RANDY duo "were laughing in the bathroom before they came out."