Exclusive
Katie Holmes Rejects Eager Fans, Shoos Away Suri To Gab With Gal Pal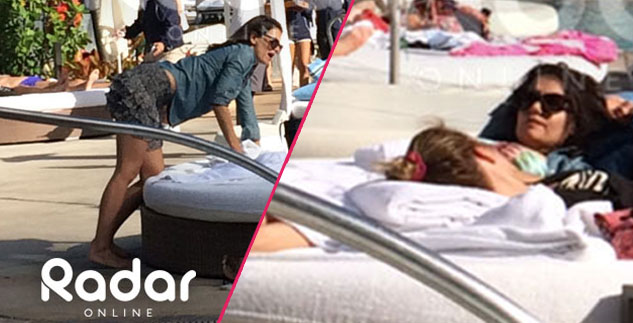 A couple of Katie Holmes fans were excited when the spotted their favorite star at the FontaineBleau resort in Miami Beach last week, but exclusively tell RadarOnline.com they were left disappointed when the actress denied them a photo.
Soaking up the sun in Miami with Suri Cruise, the mother-daughter duo escaped the chilly New York City weather for the beach and have been vacationing in Florida since late-December.
Article continues below advertisement
"My cousin and I were eating lunch and all of a sudden she spotted Katie Holmes. We were aware she was staying at the hotel and she's always been one of our favorite celebrities so immediately we sprung up and begged for a picture," an eyewitness told RadarOnline.com of her chance meeting with the former Dawson's Creek star on Jan. 3.
"Katie responded 'Nope!' and smiled her trademark crooked smile and then walked into the bathroom."
Rejected by the actress, the girls continued on with their lunch and claim Holmes gave them "dirty looks."
"Later on we saw her sitting on a pool bed gossiping with her friend while lounging by the pool. She gave us a few dirty looks. Suri was no where in sight," the eyewitness said.
"Finally after about 15 minutes Suri came up to her trying to ask Katie a question. Katie shooed her away with her hands and continued gossiping with her friend."
Do you think Holmes owed it to her fans to take a photo, or she deserves her privacy? Sound off in comments below…