First Photo: Hugh Grant's Secret Swedish Baby Mama Revealed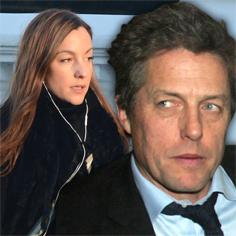 Actresses, models and socialites have all been seen on Hugh Grant's arm over the years. So when news broke yesterday that he had fathered a third secret love child, the world wondered just which beautiful woman he had chosen to mother his child. Only RadarOnline.com has all the details about Grant's new baby mama, Anna Elisabet Eberstein.
A stunning brunette like Grant's ex, Elizabeth Hurley, Eberstein is a freelance TV producer who has worked at ESPN in the past and attended Uppsala University in her home country of Sweden. She's also an avid tennis player.
Article continues below advertisement
According to reports in the U.K., she first met her baby daddy to-be at a London party when she pitched him a film idea. The couple decided they'd be better off as romantic partners, and went on "a string of dates," the Mirror claims. But Grant "made clear from the start he did not want to settle down with one woman," the paper says.
Indeed, though Eberstein gave birth to a son by Grant in September 2012, just three months later Grant welcomed another son with the woman who gave birth to his daughter in September 2011, Tinglan Hong. He's called his relationship with Hong "a fleeting affair," despite his two children with her, and has yet to comment on his relationship with Eberstein.
Still, Grant reportedly continues to do right by both women, putting them up in multi-million-dollar London apartments.
Eberstein originally left his name off of her child's birth certificate, but when it was re-registered in December 2013 his name appeared, unveiling their secret relationship.