'Someday My Prince Will Come!' Dina Manzo's Pals Want To Help 'RHONJ' Star Find True Love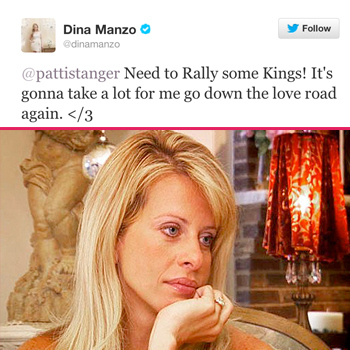 After finally moving out of the home she shares with her estranged husband, The Real Housewives of New Jersey star Dina Manzo is being encouraged by friends to start looking for a new man, RadarOnline.com has learned.
Although she's still legally married, the reality star separated from Tommy Manzo nearly a year ago, and pals are eager to set her up!
"Next season you need to come on Millionaire Matchmaker. You know I will spoil you rotten Jersey/LA style," Bravo star Patti Stanger tweeted to Dina on Jan. 2.
Article continues below advertisement
Stanger's kind gesture quickly turned a bit awkward though when she tweeted that Dina's estranged sister Caroline Manzo could help recruit the suitors. (As Real Housewives fans know, Caroline implied she and her sister have kissed - but certainly haven't made up.)
Taking the high road, Dina tweeted back about her reluctance to come on the Bravo matchmaking show.
"Need to Rally some Kings! It's gonna take a lot for me go down the love road again," Dina tweeted.
"Some day my prince...ehem King will come," she added.
As RadarOnline.com previously reported, Dina signed on for the sixth season of RHONJ, after a four-year hiatus, which has led some to believe she's using her new gig to gain financial freedom from her estranged husband.
"Here's the thing, she wants to get a divorce from Tommy. They have a pre-nup that's the size of a frigging phone book. If she divorces, she isn't getting anything. She walks away with no house, nothing - so it's either sign back with Bravo or you stay with the devil," a source told RadarOnline.com.
Dina tied the knot with the Brownstone co-owner in 2005 in front of VH1 cameras for the reality show, My Big Fat Fabulous Wedding.
But, the pair's romance has been anything but a fairytale, with a source telling RadarOnline.com that he cheated on her. "She's caught him a number of times," the source said.