Exclusive
Feeling The Heat: Chris Bosh Baby Mama Files For Bankruptcy, Claims Miami Star Worth $109M… But He Only Pays $3K In Child Support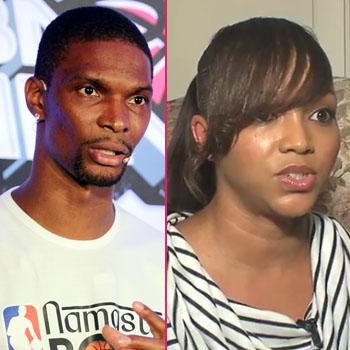 Miami Heat star Chris Bosh might have signed a $109 MILLION contract but RadarOnline.com has exclusively learned that his estranged baby mama has filed for bankruptcy and claims he only pays her $3,000 a month in child support.
Allison Mathis, the mother of the baller's 5-year-old child, filed for Chapter 13 in Florida and, despite her baby daddy being worth millions from his 6-year contract, Radar has exclusively obtained the documents that detail her poverty pleadings.
Article continues below advertisement
READ Chris Bosh's Baby Mama's Bankruptcy Filing Documents Here
The two have been locked in a nasty legal battle for years, fighting over custody of the child and financial support as well.
Bosh's baby mama, who says her occupation is a part time research assistant, states that she has approximately $320,446 in assets but owes $286,946 to creditors.
The documents detail Mathis' finances as a monthly income of $3,985 with expenses of $1,615 and states that she only has $1,250 in her checking account, $18,000 in her savings account, furniture and jewelry worth $3,700, and a 2007 BMW worth about $15,000 and owes $284,000 on her Windemere, Florida home.
Mathis states her income is minimal – she declares that she makes $800 a month and receives $2,685 in child support from Bosh and receives $500 a month from family to supplement her income.
Bosh previously filed a lawsuit against Mathis for appearing on the reality show Basketball Wives but a judge threw it out.  However, she reportedly claimed his legal drama caused her to be axed from the show.