Exclusive
Not So Real Housewives: Cynthia Bailey's Sister Claims Bravo Edited 'RHOA' Scenes To Make Her Look Bad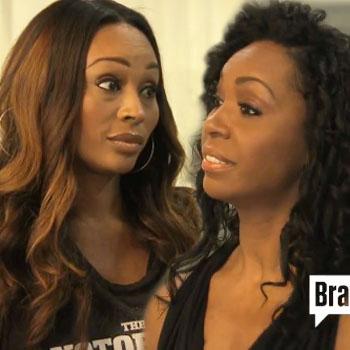 Bravo may be one of the biggest offenders for faking and editing scenes -- and RadarOnline.com has exclusively learned of yet another case of trickery to hit the Real Housewives franchise.
Speaking to Radar, Cynthia Bailey's sister claims her comments and actions were taken out of context to make her look bad over the past few seasons of The Real Housewives of Atlanta.
Listen! 'RHOP' star Wendy Osefo breaks down the "most intense fight in the show's history" in under 2 minutes.
Article continues below advertisement
Recalling Cynthia and Peter Thomas' big wedding day (which aired during the Season 3 finale), Malorie Bailey-Massie set the record straight about the couple's marriage certificate.
"I want to clear something up. I NEVER hid the marriage license," Malorie exclusively told Radar.
As fans might recall, the license went missing, and Bravo edited the scene to make it look like Malorie and Cynthia's mother Barbara had stashed away the license, hoping, it seems, that it would stall (or even derail) the wedding.
"My mother and I didn't wake up that morning and decide to hide it. That's not the case at all. I knew who had it, but I didn't come forward with the information right away," she said, claiming one of Cynthia's close pals was holding onto it.
"I've apologized a hundred times for not saying anything, but I never hid it -- despite what Bravo showed," she added.
According to Malorie, the certificate was "accidentally" left behind at their home because there was confusion among the bridesmaids about whether they needed to bring it. The assistant – under the watchful eye of Bravo cameras -- went to fetch it and handed it off to one of the bridesmaids.
Article continues below advertisement
Instead of showing that side of the story, Mal claims Bravo edited the episode to make her look like the bad guy.
"It makes me look like the over-protective sister. Don't get me wrong, I love my sister and will protect her, but I'm not all up in her business like that. There were a lot of things Cynthia confided to me before the wedding that no one saw," she revealed.
What viewers didn't see was Cynthia crying to Malorie about her and Peter's financial troubles.
"I did say that I thought maybe the lost certificate was perhaps a sign that maybe they should wait to get married," Malorie confessed about her sister's nuptials.
"Honestly, I still wasn't sure even as she walked down the aisle that this is what she wanted to do. I know they love each other, but there were issues that needed to be worked out. Even Cynthia will admit to that, but Bravo made me look heartless – and all I want is the best for both of them."