'RHOBH' Star Joyce Giraud Is 'A Drama Queen, Not A Beauty Queen,' Slams Brandi Glanville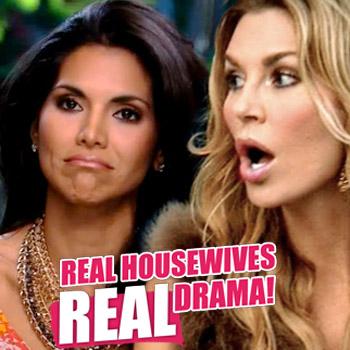 Brandi Glanville and Joyce Giraud are still at each other's throats -- despite temporarily burying the hatchet on Monday night's episode of The Real Housewives of Beverly Hills.
After the co-stars hugged it out on Bravo, Glanville wasted no time defending her nasty feud with Giraud.
"I thought this could be a good time to hash it out with Joyce and move forward… but Joyce is quite the exaggerator," Glanville wrote on her Bravo blog. "I think they should change Joyce's title to drama queen not beauty queen."
Article continues below advertisement
Although she did apologize for offending Joyce, Glanville obviously wasn't ready to completely apologize about everything.
"This woman is calling me racist, bully, alcoholic, and bipolar. Those are really exaggerated and extreme labels when the fact is I wasn't bullying her -- just being a b—ch.
"The definition of bully is a person who uses strength or power to harm or intimidate those who are weaker. Did I harm her with my powerful ways? Does she really think she is weaker then me?" Glanville mused.
She continued: "She claims I play the victim, but it's the other way around. The rest is all bulls---! I was made fun of for being flat-chested, skinny, and having a funny name when I was younger -- but that's just juvenile name-calling. Stick and stones you know? I wasn't bullied, and I have not bullied Joyce."
The outspoken single mom agreed to be cordial, but called their make up a temporary "band-aid."