Beloved Teen Sam Berns Whose Battle Against Rare Disease Is Told In HBO Documentary, Dies Hours Before He Was To Be N.E. Patriots Honorary Captain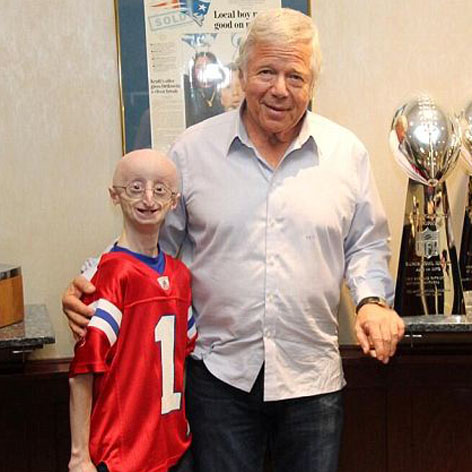 Sam Berns, whose story is told in the currently-airing HBO documentary, Life According to Sam, died Friday at the age of 17.
Sam suffered from the rare disease, Progeria, which causes premature and accelerated aging but he never allowed it to stop him from living every day to the fullest.
He was a diehard New England Patriots fan and had been invited to be on the field with the team, as their honorary captain, Saturday night before they took on the Indianapolis Colts in the NFL playoffs.
Article continues below advertisement
The team held a dedication to Sam before the game, announcing to the 70,000 shocked fans that Berns had died, and Patriots owner Robert Kraft issued a statement, saying: "I loved Sam Berns and am richer for having known him. He was a special young man whose inspirational story and positive outlook on life touched my heart."
Kraft had read about Berns last September and invited him to come meet the team. He gave the players a strategic pep talk before the game, and they won.
"I don't waste energy feeling bad for myself," Berns said. "I surround myself with people that I want to be with. And I keep moving forward."
Kraft and the Patriots players weren't the only ones moved by Sam's life. Celebrities like Katie Couric and many other Boston-area athletes tweeted their condolences on learning of his death..
"The warrior, Sam Berns passed away today," said the Bruins' Brad Marchand. "He was an inspiration to everyone. You will be missed greatly. Fly high."