Exclusive
Tom Cruise $50 Million Lawsuit: Magazine Publisher Wants HIM To Pay Their Legal Fees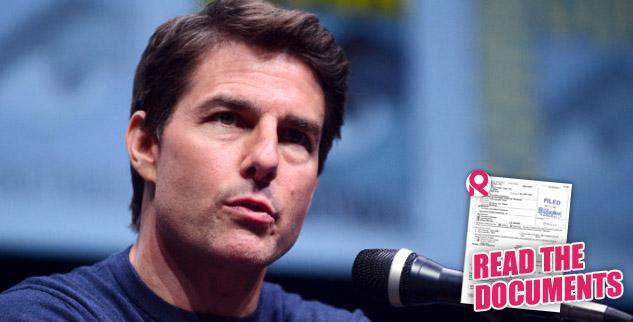 Tom Cruise's legal troubles are getting worse because RadarOnline.com has exclusively learned that the magazine publisher he is suing for $50 million for libel and slander is fighting back – and asking the judge to order the actor to pay a portion of their legal fees.
Lawyers for Bauer Publishing are asking Magistrate Judge Jacqueline Chooljian to order Cruise to pay $35,000 in legal fees associated with his attempt to tie the company to alleged anti-Semitism in his lawsuit over the publisher's claim that he "abandoned" his daughter, Suri Cruise in the wake of his divorce form actress Katie Holmes
Article continues below advertisement
Cruise, a devout Scientologist , failed in his bid to connect his Bauer to Nazism and Hitler worship, after the judge ruled the publisher did not have to reveal whether it had any ties to alleged anti-Semitism.
In a Los Angeles federal district court the judge said Bauer's potential Nazi sympathies were outside the scope of the case and Bauer steadfastly denied having any Nazi ties or allegiances.
The judge had ordered Cruise to pay 50 percent of Bauer's fees at the last hearing. According to new court documents obtained exclusively by Radar, "defendants' litigation team billed a total of 165.2 hours on thismotion...."
Cruise's high-powered attorneys had been making the disturbing accusations for almost 12 month as part of their defamation lawsuit against In Touch and Life & Style magazines.
In one letter to Bauer's legal counsel, Cruise's lawyer wrote: "This relentless defaming of Mr. Cruise and his Church is less surprising now that we have discovered Bauer's long and disgraceful record of religious hatred and bigotry. This appalling record goes back to the 30s and 40s, when Bauer Publishing was a fawning admirer of Hitler and the Nazis, publishing glamorous portraits of Der Führer … They also published vicious caricatures of Jews that were so popular in Germany at the time.
"Bauer's conduct didn't stop with the war's end."
Bert Fields continued, "Since then, it has distributed neo-Nazi magazines, as well as Nazi-themed pornography and has engaged in anti-semitic rants."
Magistrate Judge Chooljian must sign off on the request by Bauer Publishing.