Exclusive
Cole Vosbury Before The Beard: See 'The Voice' Star Fresh-Faced!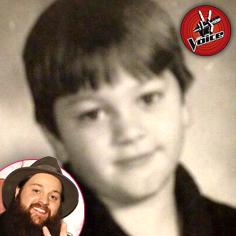 Is a scraggly beard the new key to music superstardom? Nearly 30 years after ZZ Top's last hit, the cast of Duck Dynasty are currently sitting atop the country music charts and bearded troubadour Cole Vosbury is going strong on The Voice. But Vosbury wasn't always such a sharp-tressed man: RadarOnline.com has obtained an adorable photo of a fresh-faced Vosbury before he could even dream of growing a goatee, let alone the chest-grazer he rocks now.
Article continues below advertisement
The photo, from a yearbook at Stockwell Place Elementary School in Bossier City, Louisiana, shows a chubby-cheeked Vosbury facing down the camera with his trademark shy grin.
"We went to school with a super star!" his former classmate, Claire Crawford, tweeted along with the pic.
Indeed, Vosbury was a well-known guitarist growing up in the Shreveport area, playing with such local acts as Crawdads, Claude King andB.B. Watson over the years before starting his own Cole Vosbury Trio and then auditioning for The Voice.
Not everyone is excited to see him find success on the national stage, however. As RadarOnline.com has reported, businessman Harold Glen Martin was arrested for attempting to extort the star after he allegedly bailed out of a charity concert.
After last night's performance, Vosbury is currently at #16 on the iTunes singles charts with his rendition of "Rich Girl" by Hall & Oates.