'Fifty Shades Of Grey' Rocks Sheriff Department, 11,500 'Graphic' Texts Sent Between Top Official & Officer Who Called Each Other Christian & Anastasia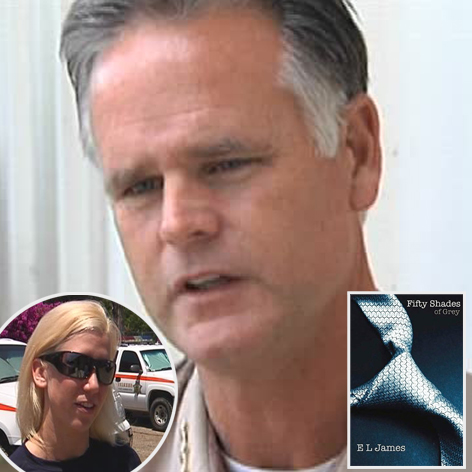 The Santa Barbara County Sheriff's Department has been stunned by a sex scandal straight out of Fifty Shades of Grey.
When second-in-command, Undersheriff Jim Peterson, suddenly retired for "personal reasons" in October, no one predicted the shoe that was about to drop.
A month later, Valerie Walston, the spokesperson for the Department's volunteer Search & Rescue Team, filed a lawsuit claiming Peterson had sexually harassed her for a year, had promised her a promotion if she had sex with him, and then demoted her when she ended he affair.
Article continues below advertisement
A former freelance TV producer and publicist, beautiful blonde Walston became certified as a member of the Search & Rescue Team in 2010 and was made its spokesperson. In 2012, she applied to become the Sheriff Department's Public Information Officer. She didn't get the job but did meet Peterson in the process.
According to her lawsuit, which also names the Department as a Defendant, during the next year, Peterson and Walston began a sexual relationship and exchanged over 11,500 text messages, most of them extremely erotic in content.
Peterson reportedly told Walston that he intended to run for the County Board of Supervisors, and that he planned on retiring from the Sheriff's Office in the spring of 2015.
Then it got kinky.
According to several local reports about the texts which are detailed in all their graphic glory in the lawsuit, soon after, the married Peterson asked Walston "to speak French" to him.
Walston also claims Peterson wanted them to refer to each other as Christian Grey and Anastasia Steele, the two main characters from Fifty Shades of Grey.
Article continues below advertisement
According to accounts of the lawsuit, Peterson texted Walston photos of himself "in different states of arousal" and one where he said he and his wife "have an arrangement and understanding. Hahahaha."
FIRST PHOTOS: Cheating Governor Mark Sanford Caught On Beach With Argentine Mistress
In July, Walston reported her relationship with Peterson and turned over the thousand of texts to Sheriff Department's officials. Her position as the SAR spokesperson was eliminated two months later.
"Ms. Walston's 'termination' on October 22, 2013, was clearly pretextual due to the fact that she was forced to engage in a sexual relationship with Mr. Peterson," her lawsuit claims.
The lawsuit, which the Santa Barbara Independent called "overly graphic and lurid," is asking an undetermined amount of "more than $10,000."
The movie version of the erotic Fifty Shades is due out late next year.