Exclusive
Secret 'Friend' Jason Bateman Urges Jennifer Aniston & Justin Theroux To Marry… Soon!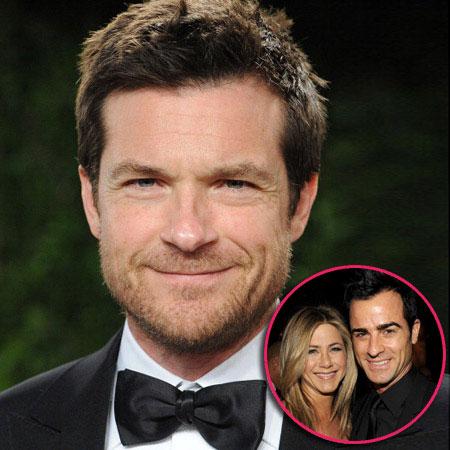 When it comes to marrying fiance Justin Theroux, Jennifer Aniston has a secret FRIEND in her corner, RadarOnline.com has learned.
While Aniston, 44, and Theroux, 42, have dragged their feet on getting married for months, Jason Bateman has been urging them to wed, a source close to the actor revealed.
And according to the pal, it looks like it will finally happen!
"Jason has been one of the biggest cheerleaders for Justin to pull the trigger and marry Jen," the insider dished.
Article continues below advertisement
"Jen has had her own trepidations, too, after her marriage to Brad Pitt failed. But Jason loves both of them to pieces and as a longtime married father of two himself, he couldn't be a better example of how to achieve personal happiness in Hollywood."
And now, Jen and Justin refuse to walk down the aisle without the the actor and his wife, Amanda Anka, looking on, the source noted.
The Juno actor and Amanda "are among Jen and Justin's closest friends and will absolutely be a part of their wedding, no matter how small it is," the insider said.
According to the source, Friends actress Aniston and Bateman, who co-starred in the 2010 movie The Switch and the 2011 black comedy Horrible Bosses, are constantly double dating!
Dished the insider: "The two couples are incredibly close. Jason doesn't advertise his friendship with Jen but he and his wife spend time with her and Justin at least every two weeks, if not more."
The Batemans were recently spotted at Aniston and Theroux's star-studded holiday party in Bel Air, Calif.
And Aniston and Theroux plan to soon follow in their footsteps and tie the knot!
"It's likely Jen and Justin will not have groomsmen, maids of honor, or best men -- nobody has been asked to do that -- but they do want their increasingly tight circle of friends to be part of the wedding via toasts to the couple," the source said.
"Justin and Amanda are sure to do the honors and will be cheering them on the entire way!"