Drinking Too Much? Troubled Scott Disick Admits His Holiday Hangover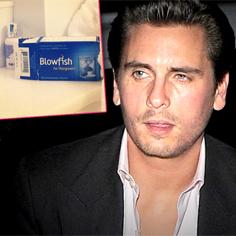 Just one day after reports surfaced that Kourtney Kardashian is begging baby daddy Scott Disick to go to rehab, the party boy bragged about his hangover cure!
Despite an alleged drinking problem, Disick openly admitted to being hungover.
"Thank god for @blowfishangover. Feel like a million bucks this morning," Disick wrote Friday on Twitter, including a picture of the drugstore hangover remedy Blowfish, fizzy tablets you dissolve in water that deliver a powerful punch of aspirin and caffeine.
Article continues below advertisement
According to the product's ads, the concoction will "knock out your pain and wake your mind back up."
But sources say Disick needs much more help than that for his recent out of control behavior.
As RadarOnline.com has reported, after the reality TV star made a drunken spectacle of himself at a Dec. 7 Kanye West concert, Kourtney begged her beau to go to rehab.
Ever since his mother died in October following a long illness, Disick — who reportedly went to rehab in 2010 for boozing – has been hitting the bottle hard.
"Kourtney is beside herself. She was giving him time to grieve, but now he's drinking with a vengeance," a source told the National Enquirer.
"She wants him back in rehab or going to AA meetings at the very least. They've got a wedding to plan for next year and she's not having it ruined by a drunken groom."
Disick was spotted swaying, staggering and looking bleary-eyed at soon-to-be brother-in-law West's Yeezus concert in Houston, Texas.
Article continues below advertisement
In a Dec. 26 Keek video message, a tired looking Disick told followers, "It's almost New Year's Eve. What's everybody's big plan? I'd like to hear it and maybe I will discuss what I'm doing. Or maybe not. We'll see."
But if Kourtney has her way, sources say, he won't be drinking on New Year's Eve.