Exclusive
'Most Beautiful' Battle! Sandra Bullock, Jennifer Lawrence & Angelina Jolie Vie For Much-Lauded 'People' Cover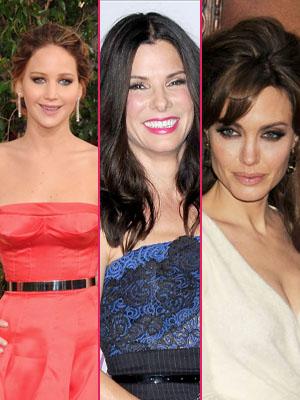 There's a battle royale between Hollywood's top actresses, who all want to be on the cover of People Magazine's "50 Most Beautiful People" issue!
Sandra Bullock, Jennifer Lawrence, and Angelina Jolie are all privately campaigning for the honor of gracing the magazine's late spring, 2014 issue, RadarOnline.com has learned!
In 2013, Gwyneth Paltrow made waves when People called her the "world's most beautiful woman" for the issue.
Article continues below advertisement
"Gwyneth landing the cover in 2013 was considered a major coup, and is now seen as the result of careful planning and campaigning," a source told Radar.
"At the moment, three candidates are vying for the cover -- Sandra, Jennifer and Angelina.
"They all want it and are expressing their desire though their various reps! Sandra's strength is she is seen as an Oscar front runner for her role in Gravity this year.
"Jennifer is obviously the hottest young actress coming off her Silver Linings Playbook Academy Award and Hunger Games success.
"But right now it seems that Angelina has the edge -- she will be extremely visible next year with the Sleeping Beauty movie Maleficent, a rare starring role for her in a mainstream blockbuster. And since Angelina does almost zero magazine covers anymore, People would love to have her.
"At the moment, though, this is a serious horse race!" the source added.
Still, should the stars be careful what they wish for? "Paltrow's 'most beautiful' tag brought out some serious haters," the source admitted.