Where's The Baby Bump? Thin Rachel Zoe Barely Showing At 9 Months Pregnant!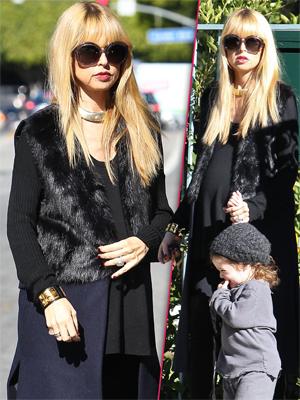 Rachel Zoe is due to give birth any day now -- though you'd never know by looking at her!
The 42-year-old fashionista, who is nine months pregnant, flaunted her trim frame and managed to keep her baby bump under wraps while out and about in Beverly Hills on Wednesday.
Wearing a stylist navy coat and sky-high platform boots, Zoe was spotted running errands with her 2-year-old Skyler, and appears to be in great shape nearing the end of her pregnancy.
Article continues below advertisement
Zoe and her husband Rodger Berman, who've been married since 1996, confirmed the news of her pregnancy back in September. This will be their second child together.
The Rachel Zoe Project star admitted she won't be doing anything to lose the baby weight after giving birth.
"Nothing. Chase a toddler and be a mother," she told Us Weekly of her workout plans. "Any new mother will tell you don't have to exercise, you just have to be a mom. Being a mom is the best exercise!"