Exclusive
Post Baby Slimdown! 'Teen Mom 2' Star Kailyn Lowry Down '15 Pounds' Since Giving Birth THREE Weeks Ago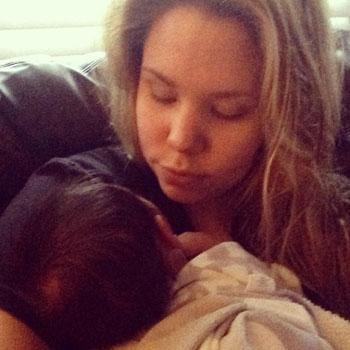 It's only been three weeks since Teen Mom 2 star Kailyn Lowry gave birth to her second son Lincoln and she's already lost a ton of baby weight.
"Kailyn has dropped about 15 pounds already," a friend of the reality star told RadarOnline.com. "She's saying that doctors told her she lost 12 pounds just giving birth."
But Lowry still plans to lost EVEN more weight!
"Kailyn is not back at pre-pregnancy weight yet," the friend added.
Article continues below advertisement
"She hopefully gets cleared by the doctor on Dec. 27, so she'll be in the gym every day trying to lose the rest and training for the race she's doing in April."
So what number does Lowry want the scale to read when it is all said and done?
"Her goal weight is 150," the friend said. "So, she has a while to go yet."
And while two weeks ago Lowry was feeling exhausted, she has since started taking her placenta pills which she believes are helping her feel more energized.
PHOTOS" Kailyn & Javi's Wedding Photos!
"Kailyn is loving them," the friend said.
"Compared to when she had Isaac her first son, she definitely has way more energy."
The friend added, "Whether it's the pills or not, she is giving credit to the pills."
Plus, Lowry is not feeling any side effects from the placenta pills.
"No, she hasn't noticed any," the friend confirmed