Hero That Tried To Save Paul Walker From Fiery Crash Revealed As His Childhood Friend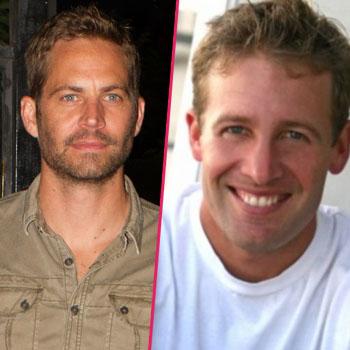 The man photographed with a fire extinguisher at the fiery car crash that took actor Paul Walker's life has been identified as his childhood friend of more than 25 years, stuntman Newt Wimer.
Wimer, 37, raced to the scene of the Santa Clarita, Calif. on Nov. 30 and desperately tried to put out the fire that engulfed the Porsche Carrera GT containing Walker and Roger Rodas.
According to the Daily Mail, Wimer burned his arms during the rescue attempt and was eventually detained by police at the scene for his own protection.
Article continues below advertisement
"Newt is absolutely devastated by what has happened. He is a brave man and he did everything he could that day," a friend of Wimer's told the site.
"He would have carried on if he hadn't been restrained. In fact it's lucky he was or he could have died too. But despite that, he will be in pieces, just wishing he could have saved them both."
As RadarOnline.com previously reported, the Los Angeles County Department of Medical Examiner-Coroner formally identified the bodies of the crash and established that Walker died of "combined effects of traumatic and thermal injuries," while Rodas died of "multiple traumatic injuries" -- making it unlikely that Wimer had a chance to save either of them, despite his heroic effort.
RadarOnline.com has learned that Wimer and Walker attended high school together at Village Christian School in Sun Valley, Calif. together.
The school has dedicated a tribute to the Fast & Furious actor on their website:
Wimer remained close with Walker through the years and played an active role in his charity, Reach Out WorldWide and was an engineer on Walker and Rodas' racing team, Always Evolving.
"Newt and Paul grew up together, they went to the same school and were incredibly close. Like brothers really," a pal told the Mail.
Article continues below advertisement
"Newt has a workshop where he works on cars and other projects at his dad's place. Paul was always round there helping out. He was there just two weeks ago. I think it's one of the only places where he felt most comfortable, because Newt and his family treated him like a normal person, not some big movie star."
The friend continued, "Losing Paul and Roger is such a massive blow to this group and this community. Not only were they hugely well-respected, popular guys, they were so important to many different businesses and charities. The ramifications of their deaths will go on for a long time."
Wimer's stuntman credits include The Lone Ranger, Transformers, and White House Down.