Breaking The News-room! HBO Star Olivia Munn's 'Know It All' Attitude Bugs Co-Star Jeff Daniels and Creator Aaron Sorkin On Set, Source Says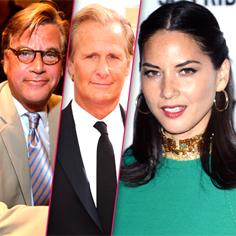 The Newsroom star Olivia Munn's "know it all attitude" is bugging her co-star Jeff Daniels and producer/creator Aaron Sorkin, a source told RadarOnline.com.
In fact, "Olivia and Aaron's relationship soured so completely during season two of The Newsroom that it created a poisonous atmosphere on the set," according to the cast insider.
"It affected the entire show because Olivia was written to be such a prominent player this season. But by the end of the long shoot, Aaron and Jeff were barely speaking to her, and you can expect that in the third season, her role will be greatly diminished."
Article continues below advertisement
The source said that Munn, who plays economist Sloan Sabbith on the HBO show about a fictional cable TV newsroom, caused conflict by overstepping the boundaries between the actors and writers.
VIDEO: Behind The Scenes Of Olivia Munn's Shape Magazine Cover Shoot
"Olivia was acting like one of his co-writers instead of like a professional actress, and Aaron didn't appreciate hearing her opinions on everything, especially since he took a real risk in the show's first year by hiring her."
HBO recently confirmed that The Newsroom will return for season three in 2014.