Nigella Lawson Faces New Criminal Drug Probe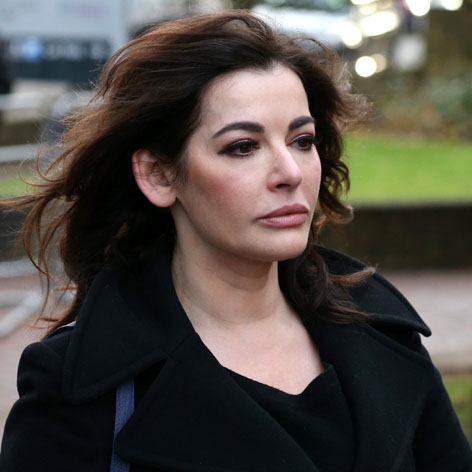 Nigella Lawson's legal problems are far from over.
The celebrity chef's admitted drug use is now going to be investigated by London's Metropolitan Police.
"We will use specialist resources from within the Metropolitan Police Service to examine all the evidence which emerged as part of a review into this matter. At some point once that review is included, presumably in conjunction with the Crown Prosecution Service, we will determine a way forward," Commander Stephen Watson, a senior Scotland Yard officer, told the Telegraph newspaper.
Article continues below advertisement
GALLERY: Cooking Up Trouble! 11 Celebrity Chefs Scandals
"Part and parcel of that review we will undertake will be to look at all aspects of the testimony that was given in the trial, which is now public knowledge, and will reveal itself in the transcripts of the trial. There are implications in terms of what has been said during the course of that trial and all those implications will be taken into account in determining an appropriate way forward," Watson explained.
Lawson, one of the judges of the ABC cooking competition reality show, The Taste, and her ex-husband, Charles Saatchi , had claimed that their former assistants, Elisabetta and Francesca Grillo, had stolen more than one million dollars from them by using his credit cards for their personal - and very extravagant - use.
The sisters successfully defended themselves, claiming that Lawson had given them permission to use the charge cards in return for keeping her drug use secret from Saatchi.
Article continues below advertisement
A jury found in their favor and now Lawson's own testimony, where she was forced to admit she had used cocaine and marijuana, is coming back to haunt her.
Lawson insisted her drug use had been limited to a very few times and her attorney called the Grillo defense nothing but a "smear campaign" against their former employer.
But in part because Elisabetta Grillo testified that the chef had let her "children smoke weed," investigators may want to look into any child protection issues as well as how she obtained the drugs, the Telegraph quotes criminal barrister Sally O'Neill as explaining.
Season 2 of The Taste will premiere on ABC in January.