Is Miley Cyrus Is Having A Fling With Kellan Lutz, Friend Of Her Former Fiance Liam Hemsworth?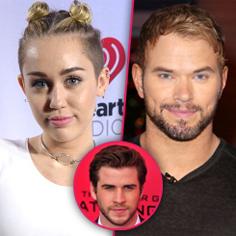 Miley Cyrus is having a fling with Kellan Lutz, the friend of her former fiance Liam Hemsworth, a new report claims.
An insider told Us Weekly that Lutz contacted the "Wrecking Ball" singer in early Dec. "and they've been hooking up ever since."
Cyrus then invited the Twilight hunk on a getaway to the Bahamas on Dec. 17, the magazine reports, and the two were photographed walking off the same private jet when it landed in Miami -- but were careful to exit the plane separately.
Article continues below advertisement
And despite Lutz being a pal of her former fiance, Cyrus is delighted that he's is interested in her, the insider claims.
As RadarOnline.com has reported, Cyrus and Hemsworth split up in Sept. after he was allegedly appalled by her outrageous twerking performance at the VMAs.
Meanwhile, fans (and Miley?) will be thrilled to see Lutz's buff body on screen when his new movie Hercules: The Legend Begins opens in January.