Exclusive
Denied! Miley Cyrus' Credit Card Refused For $170 Purchase At Record Store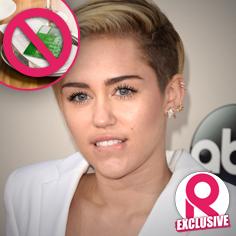 Miley Cyrus stopped by Freakbeat Records in the Valley on Sunday to buy a load of used rock albums, but RadarOnline.com has exclusively learned the credit card she used to pay was denied!
After spending nearly 30 minutes in the Sherman Oaks, Calif. record shop with a girl friend, Cyrus — dressed in super short shorts and a tight leather jacket — bought $170 worth of records.
"No one in the store really recognized Miley, even though she was hard to miss. It's not her demographic of fans. But she was embarrassed none the less when her card was denied!" an eyewitness exclusively told Radar.
Article continues below advertisement
"The cashier was really nice and told her the bank probably put a hold on it because it was a large purchase, so she dug out another card and the payment went through."
After leaving through the store's back entrance with a new stack of albums, Cyrus tweeted this photo:
Cyrus is said to be worth at least $150 million.
While at Freakbeat, the eyewitness tells Radar one person (sort of) recognized Cyrus and approached her asking if she was a "famous musician."
"The guy asked Miley if she could help with his band and take a listen to some of his music," the eyewitness said.
"You could tell she was thinking, 'What the hell?!' but chatted with him and asked him about his band and where she could listen to his music online. It was really nice of her."