Kim Zolciak Claims Sudden Pregnancy Weight Loss — In Just NINE Days — Was All Natural: 'I Have NOT Had A Tummy Tuck'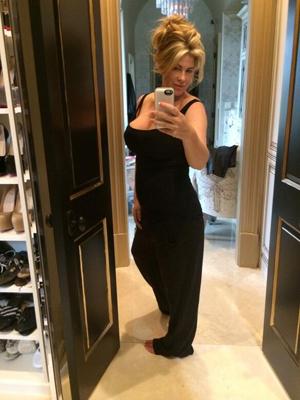 Kim Zolciak's shocking weight loss less than two weeks after giving birth to twins seemed too good to be true without the help of surgeon, but the reality show star swears that she did not have a "tummy tuck" in order to slim down.
The former Real Housewives of Atlanta star's oldest daughter Brielle posted a picture on Twitter of Zolciak minus the baby bump and asked the question, "how is my mom a size 4... it's been 9 days since she gave birth to twins," causing speculation that there was no way that she could drop the weight that quickly.
Article continues below advertisement
Now Zolciak herself is speaking out about her post-baby weight loss and is claiming she did not have surgery to help her get back down to a smaller size.
"I don't know what doc wud do major surgery the day u deliver but I have NOT had a tummy tuck!" the former The Real Housewives of Atlanta star, 35, tweeted at a fan and also at talk show host Wendy Williams.
"All of her weight is centered around her belly (that is stretched with the twins), and her face, arms, and legs are lean like a person who isn't pregnant," Dr. J Shah, Chief Medical Director of Amari Medical in New York exclusively told RadarOnline.com when looking at pregnant photos of Zolciak.
"Two things can explain this phenomenon. She is lucky to most likely have a large placenta that is producing a high level of the hCG hormone. This hormone is essential in converting the mother's fat into nutrition for the babies, therefore preventing her own body from storing the fat."
Dr. Shah says the other factor that contributed to Zolciak's fit post-baby body is that she likely ate very healthy during her pregnancy.
Article continues below advertisement
"After the pregnancy, she loses the weight of the twins, the placenta and fluids and by looking at her pre-pregnancy picture, she would fit easily back into a size 4," he told Radar.
While Zolciak didn't mention how she was able to drop the weight so quickly, she did reveal that she gained nearly a whopping 50 pounds during her last pregnancy.
"To answer the questions I keep getting, Kane weighed 6lbs 14oz and Kaia weighed 6lbs even!!! Almost 13 lbs of baby! I gained almost 50lbs!" she said.
And it doesn't sound like Zolciak's diet is answer to her weight loss mystery.
"I eat pizza everyday," she stated.
She also added "I keep eating those Reese's peanut buttercup Christmas trees where's @ShunMelson I always feel better when someone eats them w/ me!"