Exclusive
Kim Zolciak's Skinny Post-Baby Body Is Thanks To A Large Placenta, Says Top Doc!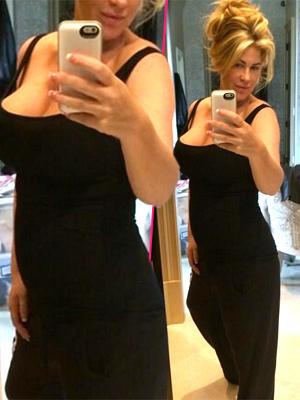 Bragging that she's already down to a size 4 just weeks after giving birth to twins, everyone is wondering: How did Kim Zolciak do it?!
According to a top doc, the former Real Housewives of Atlanta star was able to shed her baby weight quickly because she didn't gain much in the first place and is lucky "to most likely have a large placenta."
"All of her weight is centered around her belly (that is stretched with the twins), and her face, arms, and legs are lean like a person who isn't pregnant," Dr. J Shah, Chief Medical Director of Amari Medical in New York exclusively told RadarOnline.com when looking at pregnant photos of Zolciak.
Article continues below advertisement
"Two things can explain this phenomenon. She is lucky to most likely have a large placenta that is producing a high level of the hCG hormone. This hormone is essential in converting the mother's fat into nutrition for the babies, therefore preventing her own body from storing the fat."
Dr. Shah says the other factor that contributed to Zolciak's fit post-baby body is that she likely ate very healthy during her pregnancy.
"After the pregnancy, she loses the weight of the twins, the placenta and fluids and by looking at her pre-pregnancy picture, she would fit easily back into a size 4," he told Radar.
"The current picture does seem to show a little bit of a bump, so her extra stretched skin is most likely still there. So, her secret is not weight loss, but rather her body prevented weight gain during pregnancy."
Dr. Shah has never treated Zolciak, but specializes in Medical Weight Loss as well as the latest non-surgical sculpting treatments, CoolSculpting and Exilis.