'The Little Couple' Star Jen Arnold Bravely Reveals Bald Head From Chemo Treatments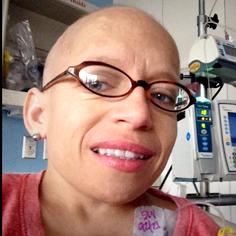 Courageous Jen Arnold has tweeted a photo of herself without hair for the first time, as the side effects of her chemotherapy treatment kick in, RadarOnline.com is reporting.
The Little Couple star – who revealed earlier this month that she is battling Stage 3 uterine cancer -- posted the photo on her Twitter page on Friday.
Taken in a hospital room, the selfie shows her hooked up to a machine.
The 39-year-old tweeted: "Day 2 inpatient chemo – sleeping a lot, liking new anti nausea med this time, & looking to get home today!"
Article continues below advertisement
The reality TV star has been keeping her fans up to date with her condition ever since she announced she is fighting the disease.
At first it was thought that she had canceled a chemotherapy session to celebrate the Christmas holidays with her family, including toddlers Will and Zoey and husband Bill Klein.
But Jen later told Radar that the appointment was cancelled "due to low blood counts."
Happily the day after Christmas she announced a more positive update on her Twitter page, saying: "Good news is my counts are improved and am getting chemotherapy today!"