Exclusive
When Dean's Away, Does He Play? McDermott Parties With Other Women In Toronto While Wife Tori Spelling's In L.A.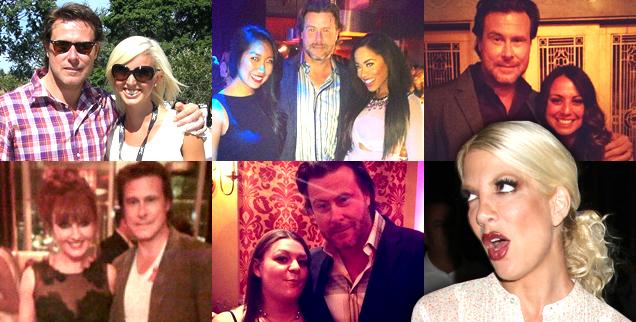 Article continues below advertisement
On December 7, McDermott was spotted partying with an unnamed brunette at Pravda Vodka Bar in Toronto -- the same spot where he reportedly met Goodhand.
That same night, he also stopped on the street to pose with another young woman he ran into on the street.
Spelling, meanwhile, tweeted about battling an ant infestation in the pantry of their L.A. home.
Just over three months ago, on September 20, he hit up the Toronto night scene without his wife yet again, attending a party at the Kool Haus event space. There, he happily posed with two hot young women in his arms.
"It was such a pleasure chatting tonight!" one of the women, Patricia Jaggernauth, gushed in the caption on the pic.
Back in June, he cozied up to pretty brunette Jill Balaka for a photo at the up fronts celebration for Canadian TV concern Shaw Media while promoting his hosting gig on Chopped: Canada.
And even as far back as 2011, he made the rounds of the party circuit without Spelling, hitting up a series of events for the Toronto International Film Festival that fall.
Article continues below advertisement
He was spotted hanging with redheaded magazine editor Alison Eastwood at an event on September 10 in Toronto, and slung his arm around a petite blonde fan -- a dead ringer for his absent wife -- at the Canadian Film Centre BBQ that same afternoon.
Did all of his time away from home and with other women by his side finally turn into an affair? Only McDermott knows for sure, and in the meantime, Spelling isn't saying anything.