Cameron Diaz Reveals Adult Acne Struggle: 'I Always Felt Really Bad About Myself'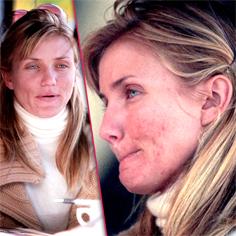 Cameron Diaz's face has graced movie screens, magazine covers, and more throughout her years as an actress and model. But her gorgeous looks haven't always been 100 percent natural. In her new health guide, The Body Book, Diaz admits to struggling with acne as a teen and well into her adult years, even as she got her first gigs in Hollywood.
"I mean, I had terrible, terrible, skin," she reveals. "It was embarrassing, and I did everything I could think of to make it go away. I tried to cover it with makeup. I tried to get rid of it with medication: oral, topical, even the harshest prescriptions. Nothing helped for very long."
Article continues below advertisement
"It was really challenging to cover them up for the cameras," she writes. "It was awkward and embarrassing and frustrating, and I always felt really bad about myself."
But her struggles persisted, she says, until she focused more on what she was putting into her body than how it looked on the outside.
Diaz once bragged, "I eat a cheeseburger with french fries every day." But as she started to skip fast food and cook for herself at home approaching age 30, the actress-turned-author explains, "a funny thing happened … my skin began to clear up! My acne wasn't totally gone, but it was significantly better."
"Looking back, I realize that I hadn't needed those prescription drugs, those vials of potions and creams," Diaz, now 41, writes. "I hadn't needed to be angry at my skin or feel bad about myself. I had just needed to LISTEN TO MY BODY. … acne was my body's alarm system, it was mew ay of telling me to stop eating fast food."