Scary Skinny! Tara Reid Shows Off Saggy Bikini Body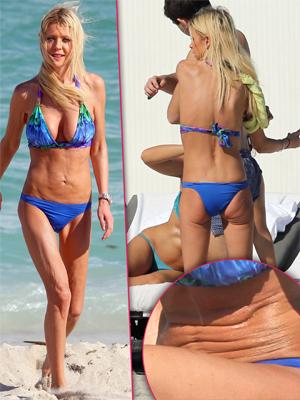 Tara Reid stripped down to a tiny blue bikini and the struggling actress revealed her shocking beach body, with a saggy bottom and a disfigured set of rolls in her stomach in these photos obtained by RadarOnline.com.
With her boyfriend Erez Eisen, Reid was sprawled out on the sand and playing in the ocean in Miami Beach, showing off her scary skinny frame.
The 38-year-old American Pie actress spoke previously about her botched stomach lipo, saying: "My stomach became the most ripply, bulgy thing."
Article continues below advertisement
She clearly wasn't happy with the results, admitting: "It looked like I got completely butchered up."
Reid has also spoken about the fact that she believes a plastic surgeon gave her much larger breasts than she asked for.