Renee Zellweger's New Wide-Eyed, Frozen Face Result Of Botox, Top Doc Claims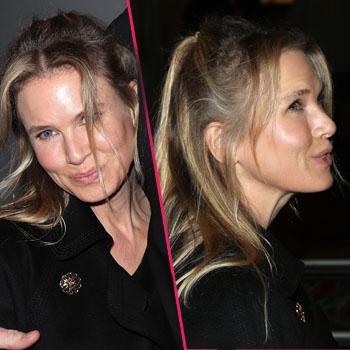 What's the deal with Renee Zellweger's frozen face? It's all botox, a top doc tells RadarOnline.com.
The crowd did a double take when the Bridget Jones star debuted her new look at the weekend, stepping out for a screening of the movie Long Shot: The Kevin Laue Story in Burbank, Calif.
The 44-year-old's face looked wrinkle-free and her squinty-eyed look had noticeably been replaced by a wide-eyed appearance.
Article continues below advertisement
"It appears that she may have undergone injections of Botox, preventing her brows and forehead from creating her trademark look," said Anthony Youn, M.D. of YOUN Plastic Surgery, who hasn't personally treated the actress.
"Her brows look more relaxed, allowing her eyes to open up more."
To achieve this new look, Youn said he thinks the actress has only used Botox and didn't have to go under the knife to achieve her new look.
"Botox lasts about 3-4 months, so she can achieve this result with just one treatment," he said.
Speaking about Zellweger's younger, youthful appearance, Youn praised the star for her radical transformation.
"She looks great -- even better than how she looked when she debuted on Jerry Maguire," he said.
However, online commentors weren't as receptive to the new look.
"This is the biggest mistake of her life. She took all that was cute and different about her and destroyed it. Her career is over," one person wrote.
Another woman urged the actress to stop with the Botox, writing: "She had such a beautiful and unique look for Hollywood. Why try and look like every other plastic? Stay natural!"
Do you think Zellweger's new look is flattering? Let us know in the comments.