Reese Witherspoon Getting At One With Nature For 'Wild' Turn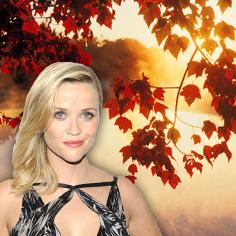 With her outdoors adventure film Wild underway, Reese Witherspoon is trying to be at one with nature.
The Oscar-winning actress toughened up preparing for the film, where she's playing writer Cheryl Strayed, with an attempt "to 'de-Brentwood' her diet and her creature comforts at home in order to convincingly play somebody hiking in the wild for weeks at a time," an insider told RadarOnline.com.
The mother-of-three transitioned her diet to "camping and survival foods like trail mix and canned beans," and routines to "napping under the stars in long underwear and a sleeping bag" in an effort to prepare herself for the role.
Article continues below advertisement
The Walk The Line beauty, the source said, is "basically using the approaching winter in Los Angeles to get herself ready for this movie.
"She's going to be slimming down a little bit, but not as much as you'd expect, because the character is younger than she is, and she doesn't want to look too aged. But she's doing a version of the 'Paleo Diet' at home -- at least her version of it."
The film will chronicle Strayed's 1,100-mile journey through California, Oregon and Washington.